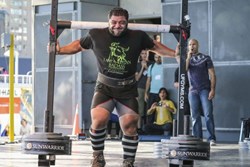 It was amazing to see the picture of Patrik carrying that huge burden and then notice the Sunwarrior name slapped across the weights.
Mesquite, Nevada (PRWEB) September 17, 2013
Sunwarrior, a plant-based supplement company based in Southern Nevada, is pleased to have sponsored the 2013 Toronto Vegetarian Food Festival on September 6th through the 8th. The company also congratulates record-holding strongman, Patrik Baboumian, on his latest record achieved during the festival.
He carried a yoke stacked with over 550 kilograms ten meters across a stage at the Harbourfront Centre on Sunday to break the old record. Even though the official declaration from Guinness has yet to be announced, it appears to be the most weight carried by yoke for ten meters to date and is a huge accomplishment, especially for someone living a vegan lifestyle. Just moments after carrying the massive amount across the room, Baboumian roared, "Vegan Power!"
Baboumian decided to go vegetarian in 2006 due to his great love of animals and he has continued to show since then that he can still accomplish great things without meat in his life.
"It was amazing to see the picture of Patrik carrying that huge burden and then notice our name slapped across the weights," said Nick Stern, cofounder of Sunwarrior. "We're proud to be a part of that moment in even that small way and we want to congratulate Baboumian and thank him for all he does to retrain the world on the power behind vegan living. He is an inspiration to me personally and so many of those who use Sunwarrior too."
About the Vegetarian Food Festival
It's a festival that reflects the vibrant community around them. Their goal? The same as their parent organization's mission—to inspire people to choose a healthier, greener, and more compassionate lifestyle.
This is a food festival first, so they pride themselves in bringing the best from both local and international chefs. Plus, they stock a marketplace full of vendors who make it their business to change what people think is possible for vegan food. That means a weekend full of cooking demonstrations, free samples, new products, cookbook launches, and eating. Lots of eating. They insist on making this event free to the public, so all people need to bring is an appetite and, if smart, pants with an elastic waistband.
Everyone knows that there is more to food than just eating. Between meals, they program the weekend full of workshops, lectures, fitness classes, music, panel discussions, and other special events. But let's be honest, people won't find out why they are North America's premiere veg food festival by reading. Visit them in September 2014 for a weekend-long celebration of the best the vegetarian world has to offer, hosted over 10-acres of Harbourfront Centre's beautiful waterfront.
About Sunwarrior
Sunwarrior's mission is to illuminate body, mind, and planet. Sunwarrior has taken this mission to heart, relying on only the wonderful plants found in nature to change the way the world looks at fitness and nutrition. The company was born from the dreams of two men who simply wanted to create a plant-based protein powder that would be raw, vegan, and healthy, but it grew into something more.
The two men combined their dreams, their savvy business personalities, and their environmental consciousness to create a company committed to making the best plant-based products while elevating humanity and preserving the planet mankind occupies.
Sunwarrior has continued growing since that fateful night at the Sedona Raw Food Festival. Sunwarrior now offers several raw, vegan products that are perfect for anyone and any lifestyle: two delicious protein powders to build muscle and speed recovery, activated barley for enhanced endurance, supergreens for minerals and probiotics, liquid mineral complexes that nourish cellular function, immune enhancers that boost health with ionic silver, omegas rich in essential fatty acids and revitalizing healthy oils, and raw multivitamins packed with phytonutrients, vitamins, and vital macro and trace minerals, like potassium, calcium, magnesium, iron, copper, selenium, and more.
Join them in our mission to share the health and healing energy from captured sunlight with everyone. Together we truly can transform the planet, one warrior at a time.
For more information about Sunwarrior visit http://www.sunwarrior.com.