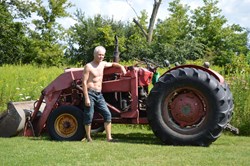 Robert Seagrove says he feels fabulous following colon cancer surgery.
Rockwood, Ontario (PRWEB) September 19, 2013
Seagrove, while undergoing a routine physical examination in April, resulted into a series of medical tests uncovering stage three colon cancer. A six week recovery from surgery on May 23 hasn't stopped Seagrove from continuing with the planned recording project which had been under way since spring of this year. After deciding not to go through with a six month regimen of chemotherapy, Seagrove says he feels good and would rather keep it that way following his oncologist's explanation of possible or inevitable side effects from chemotherapy drugs which may have included the numbing of fingers and toes. "That type of news was more devastating to me than the cancer itself," says Seagrove.
In follow up to Seagrove's CD "Art Of Diffusion" released in October just last year, new recordings in the works are not all originals. There are some Jimi Hendrix cover songs in the mix. Other covers also include 60's tunes by Gene Pitney and Paul Anka.
The recent photo of Seagrove in the midst of doing chores on his farm in Milton Ontario shows cancer isn't getting in the way.
Seagrove explains the surgical experience, "I walked into the operating room in my skimpy hospital gown. I was instructed by a good looking female staff member to get up onto the operating table. It was cold and I was shivering. I did not feel sexy. There were many in there all looking down at me and I apologized for shivering so feverishly. One said, "It's ok to be nervous." The anesthetist began asking me questions. The large operating room was bright and full of impressive equipment. I knew then that I was in for an experience that I would never forget. My surgeon came into the room. She smiled and said hello. The next thing I knew, I woke up in the recovery room several hours later. I have to hand it to my surgeon, Dr. Pereira-Hong, she is one fine person, a genius, and did a fantastic job. People can't even tell that I had the surgery and I feel fabulous."
Robert Seagrove is currently laying up new material at Neptune Sound Studio working on the new record with his band No Tax featuring Michael Sloski on drums and James Gannett on bass guitar, stand up bass.
Robert Seagrove's music is available at iTunes and other online music outlets. The new CD is scheduled to be released in 2014.