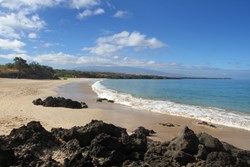 The savvy buyer is taking advantage of low interest rates and the Big Island's available inventory. We've got spectacular beaches, low-density population and lower prices than the more congested islands of Oahu and Maui. – Dodie MacArthur, CEO
(PRWEB) September 21, 2013
The 2008 market crash was devastating to Hawaii real estate and especially to the Island of Hawaii, commonly referred to as the 'Big Island', where home values dropped anywhere from 30% to 50%. The depressed housing market remained bottomed-out until 2012 when prices began to rise again breathing new life into a stagnate market.
Title Guaranty of Hawaii tracks movement in Big Island real estate and noted a 12% increase from July 2012 to July 2013. This good news is exemplified by record sales on the island's West side achieved by MacArthur Sotheby's International Realty and not seen since the 2008 crash.
In 2013 MacArthur agents had record closings on properties in:

Kailua-Kona, Kona Bay Estates, $3,450,000, Kathy J. Christiansen R(B)
Puako Beach, South Kohala, $3,050,000, Molly Harris R(S)
The equestrian estate of Kohala Ranch, $1,695,000, Rebecca Keliihoomalu R(B)
Kohala by the Sea, Kohala coast, $1,550,000, Megan MacArthur R(B)
"There's no doubt that the Big Island real estate market is moving in the right direction," said Dodie MacArthur, CEO and Owner of MacArthur Sotheby's International Realty, "Growth in sales follows the general economic recovery but it's also influenced by the concern that the Fed may begin tapering off the $85 billion a month invested in mortgage backed securities. When that happens it can't help but spike interest rates, which is detrimental to buying power. That's a strong motivator to buy now while rates are low and inventory is plentiful."
Sotheby's International Realty® is known across the globe for achieving the highest sales prices for their clients. Unlike many other real estate brokerages in Hawaii, MacArthur is exclusively aligned with Sotheby's International Realty® and receives more than 20,000 unique visits to its home page each month. MacArthur is also the exclusive sponsor and administrator of the popular 'Big Island – Hawaii' Facebook page, showcasing the Big Island lifestyle and adding another 23,000 members to its global audience. MacArthur Sotheby's International Realty offers boutique services and global marketing reach with offices on the Kohala Coast at Kings' Shops (808) 885-8885, in Kailua Kona at the Keauhou Shopping Center at (808) 331-3131 and in up country Waimea at Parker Ranch Square at (808) 885-8885.