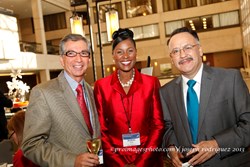 Professional Images Photography, a leader in the Convention Photography industry.
New York, NY (PRWEB) September 17, 2013
2013 has become another record year for Professional Images Photography. The use of Green Screen Photography, Convention Photography and social media used in Onsite Printing Photography has taken a small photography business started in 1987 to a national company. Providing more than just a camera a flash but a new approach to Convention Photography is what is needed in the meeting industry. The growth in business has created new opportunities for Professional Images Photography, and providing the customer more choices in capturing attendee's attention at a Tradeshow or Convention is what clients look for, and Professional Images Photography delivers.
Convention Photography provides complete coverage to any conference, convention or tradeshow. Capturing keynote speakers, breakouts and special events takes more than just a camera on auto focus. Professional Images Photography has over 25 years of experience and 1000's of meetings that have been documented.
Green Screen Photography combined with social media is more than just a green background. It is a marketing tool that helps spread a brand and message at the same time. When a photo is taken and a choice of backgrounds is dropped in, the attendee receives the photo onsite and an email with information about the brand, and product and images can be posted live to Facebook. Also, this same service offers standard backgrounds or the clients' background.
Another record year is ahead for 2013, and with dates filling up fast, it is a good idea to reach out to Professional Images Photography now for Convention Photography, Green Screen Photography and Onsite Printing Photography with social media.
About Professional Images Photography:
Since 1987 Professional Images Photographer has been providing Convention Photography services Nationwide. Based in San Antonio, TX with offices in Houston, Orlando, Washington D.C., New York and coming soon to Las Vegas, NV. 1.888.486.3241