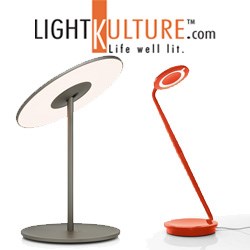 Pablo is committed to creating lasting solutions that provide a lifetime of illumination.
San Francisco, CA (PRWEB) September 19, 2013
LightKulture.com is pleased to offer Pablo. "The Pablo collection is a concise product line that gets it right," noted Susan Inderbinen, President of LightKulture.com. Pablo is one of the few collections we can feature cover to cover. Every product they offer is simple, practical and timeless. The Pablo brand represents a refreshing change of pace in an industry full of disposable products. Especially at this price point, most of the other vendors are not as creative, environmentally conscious or innovative. Pablo is committed to creating lasting solutions that provide a lifetime of illumination. The company's mission is to create designs that deepen the relationship between objects, their users and their environment.
Pablo was founded in 1993 by Venezuelan born industrial designer Pablo Pardo. His studio in San Francisco embraces a "less is more" ideology, developing more practical solutions free of decorative elements. Permanence and sustainability are the common threads of all Pablo designs. Pablo has a holistic approach to his creative process. The studio's interest in establishing enduring design collaborations with visionary individuals such as Carmine Deganello, Dana Cannam, Peter Stathis, and his identical twin brother industrial designer Fernando Pardo. Each collection is categorized between ambient lighting, designed to soften the contrast between bright task areas and their surroundings; hybrid lighting which combines both ambient and task capabilities; and task lighting options for reading and other tasks to better address the changing lifestyle demands of the modern world.
For more information, go to: Pablo Designs, http://www.lightkulture.com/m-75-pablo.aspx.
LED Lighting by Pablo Designs, Practical, Simple, Timeless, now available at LightKulture.com
"This past Spring, our buyers went trend shopping in New York City. Our trip was based around attending the International Contemporary Furniture Fair (ICFF), but we walked all over the City, from Chelsea, SoHo, The Village, and up to Columbus Circle. The only real way to shop New York is by foot. This year it was pouring rain, but this did not dampen our spirits, and made the discoveries all the more sweet. I always make a point to see what Pablo Designs is up to, We are very excited about several of their new collections due out this Fall. The expanded color offering of the Pixo LED task lamp in orange, or the white and brass combination are sure to be a hit. We saw the line extension of the Clamp series, now in a miniature table lamp version, and oversized floor version. The Pablo Circa LED series is a new collection of dimmable flat panel LED table, floor, wall and ceiling fixtures that offers 380 lumens of dimmable LED lighting, 3000 Kelvin with a CRI of 85. The portable lamps come with a handy USB port for charging your phone or other electronic devices. Circa comes in a soft touch black/graphite or white finish. We will start pre-selling the table lamps for October delivery. The rest of the collection is due by the end of the year," noted Susan.
About LightKulture.com
At LightKulture.com, our mission is to offer the finest energy efficient contemporary lighting and light fixtures from around the world. We have assembled an exciting collection of the industries most innovative decorative and architectural lighting. We are proud to offer lighting solutions for both your home and work-life environments. Simplicity in design is complicated, function makes it last. Be inspired by our range of essential designs from well respected American and European manufacturers. In today's world, energy efficient lighting is as important as eco-friendly or green lighting fixtures, such as LED or CFL lighting. We offer the very best energy efficient lighting and light fixtures, both high value LED lighting fixtures and CFL lighting fixtures in modern and contemporary styles that provide quality, innovation and authenticity.
LightKulture.com
http://lightkulture.com
Email: sales(at)lightkulture(dot)com
Tel. 941-330-0422