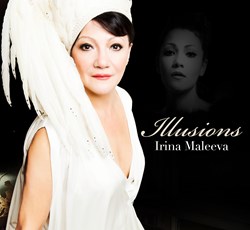 In the grand tradition of Piaf and Dietrich, Bulgarian-born screen legend/chanteuse, Irina Maleeva weaves a romantic web of European balladry while wistfully recalling the ghosts of her youth. - Huffington Post
Hollywood CA (PRWEB) September 17, 2013
International Artist Irina Maleeva to accept a Special Achievement Award at Silent River Festival October 20, 2013
After the recent success of Irina Maleeva's sold out show in Hollywood CA, Irina is accepting a Special Achievement Award October 20, 2013 at the Silent River Festival in Irvine CA.
Dedicated to the independent filmmakers of the world, Silent River Film Festival is established with the vision to bring "East and West" together to share their best work of films and "Cinema for Causes".
In addition, two of Irina Maleeva's Music Videos: "Illusions" and "Let's Face The Music and Dance" will be screened during October 17th - 20th at both the Silent River Film Festival in Irvine CA and at the LA Femme Film Festival in Los Angeles.
Irina Maleeva's CD was recently released on http://www.cdbaby.com/cd/irinamaleeva.
Irina Maleeva has just wrapped an interview with multiple award winning host, Go Harrison. Here she is on the Red Carpet at the 4th Annual New Media Film Festival where her music video, Let's Face The Music And Dance, an Irving Berlin classic was an audience favorite. The interview can be seen on http://www.IrinaMaleeva.com.
Bulgarian-Italian actress and singer Irina Maleeva was discovered in Rome by director Federico Fellini, who then cast her in three of his films. She was in Orson Welles' "The Merchant of Venice," and went on to star in 30 more Italian films.
After moving to America, she produced and acted in the film "Union City," and was given roles in a dozen TV series, including "The Bold and the Beautiful," "Heroes," "Just Shoot Me" and "Pensacola."
Her most recent project is the release of her new CD, "Illusions," and her one-woman musical theater show of the same name, which opened in Hollywood March 1, 2013. She starred in two videos of songs from that album.
The Beverly Hills News reviewed Irina Maleeva as an "absolutely incredible siren of stage and screen [with all] the virtues of the vamp camp of the 20th century," and the New York Press called her "a savvy performer." Columnist Mr. Blackwell wrote: "There's a certain magic about this lady. … She has a romance about her that keeps you right on the edge of your seat."
Her greatest pleasure comes after a performance, when people say her musical performance inspired and transported them. That's exactly what she wants her music to do.
Irina has traveled throughout the world, both as a visitor to other cultures and as a performer in several one-woman musical shows she's starred in over the years. Her travels made her aware of the plight of so many animals, including those being poached in Africa, and she now supports five orphaned elephants being raised at the David Sheldrick Wildlife Trust in Kenya.
To listen to songs on the new CD Illusions, click here http://www.cdbaby.com/cd/irinamaleeva.