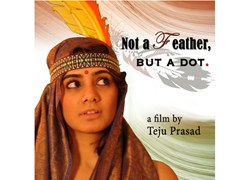 ...so wonderfully sheds light on our bi-cultural heritage. Zing has backed this film because we believe it's about time we give 20-somethings a topic that they can relate to and laugh along with.
New York, NY (PRWEB) September 17, 2013
Given the recent Twitter reaction to the naming of Nina Davaluri as the first Indian-American Miss America, there seems to be no more an opportune time for a screening of "Not a Feather, but a Dot." The film provides a synthesis of the Indian-American experience, narrated through the director Teju Prasad's personal experiences growing up as an Indian-American, as well as others such as ESPN anchor Kevin Negandhi, model Sonia Dara and adult star Priya Rai. Prasad states, "It's our hope the audience walks out of the theater with a different perspective of the Indian community, or if they've lived these experiences, to perhaps think about them in a way they haven't before."
Prasad says he continues to be surprised how little many know about the nuances of India and in particular, Indian-Americans. "Someone, after a screening said, 'I'm glad you made the film, with all the violent depictions of Hindus in the media.' I said, 'Oh? Such as?' She replied, 'Well, like the Taliban.' That's probably the most shocking,"
In describing a minor sample of Indian-Americans that have broken traditional molds to challenge the stereotypes, the film concludes in establishing similarities with other immigrant communities that have undergone an analogous process. It has been described as "raising more questions than it answers."
The youth-arm of the ZeeTV network, Zing Americas, will present the screening on Wednesday, September 25th. It marks the first joint effort between Zing and Not a Feather, LLC. Manager of Local Programming, Kanika Chadda commented, "Best film since American Desi! This doc so wonderfully sheds light on our bi-cultural heritage. Zee TV's youth network, Zing, has backed this film because we believe it's about time we give 20-somethings a topic that they can relate to and laugh along with." Prasad, adds, "After speaking with Kanika and others at Zing, I realized the network's goal was, in many ways, in line with the goals of the film. I'm very thankful and excited for the collaboration."
All tickets must be reserved by September 25th, 2013 through the following link: