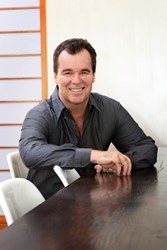 At the end of the day, you've just got to get out there… Just that one little thing every day not only gives me a heap of experience, but it unearths a world of things that I never would have thought to do.
(PRWEB) September 17, 2013
In the latest of his Creative Real Estate podcast series, real estate strategist Rick Otton has interviewed former student Nathan, who has successfully turned his property portfolio into positive cashflow since learning about Mr Otton's strategies four years ago. And the surprising part is that Nathan says his strategy is based on laziness.
Nathan started out in real estate investment as many people do, buying properties with a bank loan, renovating them and renting them out at a loss. Back in the heady days of high capital growth, when the credit was flowing, it was a reasonable strategy. Until reality hit and the bank stopped lending.
Looking for real options
Searching for alternative strategies, Nathan went along to every type of property seminar and course he could find. Unfortunately, all he found was property investment "gurus" who were "as slick as possum poo and as shiny as a top mud guard."
All that changed, Nathan revealed in the podcast, when he attended a Rick Otton property seminar. He found that "everyone was pretty normal and pretty average and knew what they were doing."
Inspired by Mr Otton's Fast Start Training, Nathan said his first step was to do….. nothing. He waited for deals to fall in his lap. When that didn't happen, he did some advertising to try to get the phone to ring. Once the phone did start ringing, he came up with lots of reasons not to talk to them. Finally, one particularly persistent seller made it all come together.
"Eventually this guy just wore me down. He kept on going and kept on going and I was forced into buying his house. They were in a bit of a pickle and they needed to get out of it and I thought, 'Jeez.' It all sort of clicked. I realized that I had these skills to go out and help people in these situations," said Nathan.
The path to laziness
Nathan's first deal helped a stuck seller quickly dispose of a property. It helped a young couple start on their way to financial freedom by getting into a property without a crushing mortgage. And even better for Nathan, he walked away with ten thousand dollars and an understanding of how this could work.
"Since then, Nathan's only advertising is word of mouth and a small daily advertisement in the local paper" said Mr Otton. "He chooses which deals he wants to do. He refuses to show houses to buyers who don't seem genuine. He only works with people who won't cause headaches."
In the podcast, Nathan shares the simple truth that makes his laziness strategy work.
"At the end of the day, you've just got to get out there. I made a simple rule that five days a week, Monday to Friday, every day I had to talk to someone that had a house that either wanted to sell it or they would end up wanting to sell it by the time I was finished talking to them… Just that one little thing every day not only gives me a heap of experience, but it unearths a world of things that I never would have thought to do," said Nathan.
Listen to the full free podcast on iTunes or at Creative Real Estate.
About Rick Otton
Rick Otton has spent decades making money by snapping up inexpensive real estate and putting it to work building wealth, and teaching others to do the same.
He is the founder and CEO of We Buy Houses, which operates in the US, UK, Australia and New Zealand, and through this business he puts his strategies to work every day.
Mr Otton received his start in alternative real estate investment in 1991 in the US, and within a year acquired 76 properties. In subsequent years, he made a fortune using his low-risk, high-reward strategies to inexpensively acquire real estate. He continues to do so.
As well Mr Otton travels between his home in Australia, and the UK, sharing his wisdom and teaching others how to buy and sell real estate, free from the constraints imposed by traditional lenders.
In 2013 Rick is celebrating the 10 year anniversary of introducing his property option strategies to real estate investors in the United Kingdom – the first person to reveal these ground-breaking strategies. In 2008 he created the first of his 'Houses for a Pound' strategies, upon which he grows as markets and laws evolve.
Mr Otton has been featured in a variety of television programs and magazines and in 2013 he published 'How To Buy A House For A Dollar' for the Australian market. This book has been named in the list of the Top 10 Most Popular Finance Titles for 2013, as voted by Money Magazine and Dymocks Book stores. A UK version is on the drawing board.
For full details of Mr Otton's open-to-the-public free one day seminars, visit HowToBuyAHouseForADollar.com.au or phone, in Australia 1300 888 450.