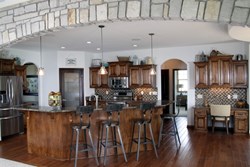 (PRWEB) September 17, 2013
Another stunning and successful MBA Parade of Homes is in the books for the 2013 edition. This year's chosen subdivisions were The Glen at Blackstone Creek in Germantown, WI and Quail Haven of Menomonee Falls, WI. Both locations featured the most modern model homes, each stunningly designed and featuring the latest amenities, this rings especially true for Milwaukee homebuilder, Belman Homes and their latest model, the "George Ross III." Even though the MBA Parade of Homes ended on September 8th, and other models are sold off or closed, Belman Homes has chosen to keep the Menomonee Falls home open for weekend showings through the end of the year.
"This home has so many exciting new features, especially if you are interested in the latest technology. It is a great place to see the latest and greatest features in a new home." - David Belman, Owner of Belman Homes.
Located at N53 W17451 Ridgeline Trail, this Menomonee Falls model home features a true open feel, which includes a 1st floor flex room and a 2 story great room, complete with catwalk to the kitchen with a stone archway. The master suite of the "George Ross III" includes a vaulted ceiling and patio door to the outdoor balcony on the 2nd floor. Convenience was carefully planned for, as even the bath features the latest plumbing fixtures, including a Bluetooth showerhead and speaker system. All Belman Homes are equipped with a Nexia Automation System, which allows the homeowner to control the heat, locks, cameras, and lights from a smartphone.
Belman Homes has been building and developing land in Southeast Wisconsin for over 30 years, most often building new homes in Waukesha. The change of scenery to the Quail Haven subdivision clearly furthered a forward thinking approach to home-building. Belman concluded, "Our 2013 MBA Parade of Homes model is well suited to a growing family and offers an open floor plan, flexible living space, all in an energy efficient design."
The "George Ross III" model home is open for showings every Saturday and Sunday, from 12 PM – 4 PM. For more information on Belman Homes and this MBA Parade of Homes model, visit belmanhomes.com or call 262-544-4648 today.