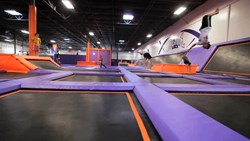 Little Rock, AR (PRWEB) September 18, 2013
Company officials communicated that the facility renovations are on schedule, as well as the manufacturing for the park layout. Little Rock has never had a trampoline park, so what exactly is a trampoline park?
"Each park is designed to maximize the functionality of the space, but essentially its 20,000 square feet of trampolines with a variety of different courts, with room and events for everyone. There's something for all ages, and you just can't jump on a trampoline without smiling." - Craig Noel, Vice President.
So how does the cost compare to other entertainment options in Little Rock?
"We think it compares very well. We offer a variety of promotions and discounts, as well as group packages that make this an affordable option for all families. Toddler Time, for instance is less than $7 for a 3 hour pass, Birthday Parties packages of 10 that include food and drinks are under $20 a person for 2 hour pass, and Group pricing less than $15 per for a 2 hour pass. All of our packages and Open Jump pricing is available on our website at http://www.altitudetrampolineparklr.com" - Jeff Rutten, Vice President & Treasurer.
Why did Altitude Trampoline Park choose Little Rock for its newest location?
"Our studies concluded that Little Rock's demographics support this unique entertainment option. There's a significant concentration of our target audience that express an interest in a health conscious lifestyle, and high energy fun. Active jumping burns approximately 1,000 calories an hour, so this is anything but idle entertainment." - Curt Skallerup, President
More information is expected to be released as the November 15th opening date approaches. Company officials have initiated the process of seeking candidates, for both Full-Time and Part-Time positions. The park expects to add nearly 50 positions over the next several months. Applications for employment can be accessed on Altitude Trampoline Park's website at http://www.altitudetrampolineparklr.com.