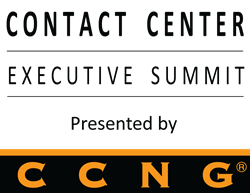 CCNG Summits are the perfect size for encouraging a productive exchange of thoughts and philosophies on critical issues...
Fort Worth, TX (PRWEB) September 17, 2013
Today CCNG International Inc. announced additional industry presenters for their 2013 Contact Center Executive Summit in Arlington, Texas.
"We have a strong group of senior level presenters and attendees that will create a very unique knowledge exchange," says David Hadobas, President and CEO of CCNG. "This is going to be a very special event and one of the best Executive Summit's we have hosted!"
CCNG highlights two additional member presenters this year from McKesson and OpenSpan.
Jennifer Richard, Director of Contact Center Operations, McKesson
Jen Richard began her career in customer service over 18 years ago. Having worked in 2 completely unrelated service sectors - publishing and healthcare - she has been able to work with very diverse customer segments. Jen has found that regardless of the industry, the similarities in caller behaviors are universal. For the past 10 years Jen has been working for McKesson, and truly enjoys the role they play in healthcare and patient lives. Jen has a Bachelors Degree in Business Administration and recently completed her ICMI Strategic Leader Certification.
Listen to the recent webcast interview with Jennifer as she shares "Quality – A Reality Revolution", a preview to the discussion and presentation content for this event.
Anna Convery, Executive Vice President, Strategy, OpenSpan
Anna Convery, as Executive Vice President, Strategy, oversees global market development and strategic initiatives for OpenSpan. An industry expert in customer service technologies and solutions for the enterprise, she previously held senior executive roles at NICE Systems, ClickFox, and Nexidia, as well as global marketing and business development roles with IBM Corporation, Jacada, and Unibol. Anna has been named a "Woman of the Year in Technology" by WIT, and has received numerous awards and recognition for her business leadership and vision. She is frequently quoted in trade publications and often speaks at industry conferences.
Listen to Anna's recent webcast interview "Customer Experience: It's Not Just The CSAT Score – It's A Journey", discussion and presentation content for this event.
This year's Contact Center Executive Summit will have presentation and perspectives from successful executives representing:
o RealPage
o Teleflora
o JP Morgan Chase
o Altisource
o Allstate Insurance
o DealerTrack
o Kohl's Department Stores
o New York Life Insurance
o Augsburg Fortress
Our sponsor organizations for this event include:
o Avaya
o Pipkins
o Voice Print International, VPI
o FurstPerson
o Aspect
o OpenSpan
o Plantronics
"CCNG Summits enable participants to share ideas and best practices in an intimate setting. In larger venues, participants can feel overwhelmed or intimidated, resulting in more constricted dialog. CCNG Summits are the perfect size for encouraging a productive exchange of thoughts and philosophies on critical issues affecting our industry. The speakers are knowledgeable, the topics are relevant and the atmosphere is collaborative. I really enjoy participating in these events." - Leslie Brooks, Director, Kroger Support Center, The Kroger Company
"From staffing & recruiting strategies, QA, Net Promoter, VOC, Performance Metrics, KPI score cards, technology, and moral ideas...... there is absolute value in attending the CCNG Executive Summit. You will leave with 100 new ideas - highly motivated to implement the lowest hanging fruit. Simply bring your list of challenges and you will receive credible answers." - Clint Britt, VP, Member Experience, AAA Colorado.
For details on how to attend or present in future CCNG executive or mid-level management events, contact Michelle Porterfield, mporterfield(at)CCNG(dot)com.
CCNG International Inc.
Founded in 1992, CCNG is a member Professional Peer Network (PPN) for contact center and customer care executives, management and leaders. Our mission is to connect colleagues throughout the industry and spread success. The CCNG Network members share best practice insights and experience with peers from top contact center organizations throughout the industry.
Benefits of Joining the CCNG Network:

Build and expand your network of valuable professional relationships with contact center leaders and award-winning organizations throughout the industry.
Leverage the knowledge of an industry-wide network of experts and peers.
Showcase top performing people and programs to build industry recognition and support operational excellence within your organization.
Explore new ideas. Build more effective programs, raise performance, and reduce risk throughout your organization.
CCNG offers events through our OptimizingCustomerContact.com series, online programs and resources to all levels of contact center, customer care and customer experience professionals. This is how good contact center organizations continue to get better. Search "Contact Center and Customer Care" to "Like" us on Facebook and Google+, follow CCNG's CEO on Twitter.