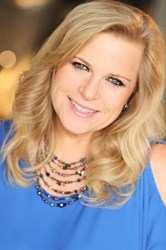 Mission Viejo, CA (PRWEB) September 17, 2013
Bart McHenry, Dean of the Division of Fine Arts and Media Technology (FAMT), is pleased to welcome Kelly Bennett of Bennett Productions Unlimited to the division on a contractual basis. McHenry stated, "It has been a goal of mine to find a person of Bennett's expertise and media background to expand awareness in the community of our exemplary programs and events. Audience development, marketing, and 'friend-raising' will be Bennett's main focus, and she has already proven herself in this area by working on our annual KSBR Birthday Bash. I am excited to partner with her and bring similar audiences and enthusiasm to all our events."
Terry Wedel, Director of College Broadcast Services at Saddleback College, stated, "Kelly Bennett has been a huge part of the recent success of the KSBR Birthday Bash. She introduced the 'Taste of the Bash' last year, and this year, it helped propel the Bash to KSBR's biggest fundraiser ever."
Bennett's extensive experience in marketing and public relations includes working at Saddleback College's radio station, 88.5 KSBR, as a news reporter and anchor, winning an Associated Press award for "Best Use of Audio". She became host and main anchor on the college's cable news program and then began working full time at the Orange County News Channel (OCN). Being responsible for breaking news, daily story assignments and managing news crews, she developed strong sources and contacts within the county. She became involved with creating and developing story ideas which led to a Golden Mike Award in 1999 for "Best Live Coverage of a News Story" from the Radio and Television News Association of Southern California (RTNA). While at OCN, Bennett worked diligently with the Orange County Sheriff's Department and the California State Attorney General to launch the AMBER Alert in Orange County and was honored for those efforts at the press conference unveiling a US Postal stamp for Missing Children.
Bennett founded Bennett Productions Unlimited (BPU) to help businesses looking to take the next step in their success. Priding on custom-tailored growth strategies, BPU seeks to be an ally in opening doors and making things happen. Through advertising campaigns, media marketing, public relations, and event production, BPU brings a diverse approach to setting others up for success by specializing in Public Relations, Media Marketing, Event Production, Advertising, Film Production, and Social Media Management.
Among her many impressive credentials, Bennett is a recipient of the 2011 California Governor and First Lady's Service Award, 2001 Business Woman of Distinction Award from the American Business Woman's Association and is a member of the Orange County Public Relations Society of America. She is past president of the Orange County Community Relations Council and sits on the boards for Special Olympics of Orange County and AIDS Services Foundation of Orange County.
The Division of Fine Arts and Media Technology is pleased to welcome Kelly Bennett to the family and looks forward to working with her on her many ideas and projects to enhance exposure for the arts at Saddleback College. FAMT at Saddleback College is the place where creativity, ingenuity, and vision are given free rein and no constraints are placed on the imagination. Departments include: Art, Art History, Cinema/Television /Radio, Music, Photography, Speech, and Theatre
Located in Mission Viejo, Saddleback College provides quality higher education and training to the greater south Orange County community. Having served more than 500,000 students since 1968, Saddleback College offers more than 300 degree and certificate programs to help students reach their personal, career, and educational goals. For more information, please visit http://www.saddleback.edu. For Fine Arts events, visit http://www.saddleback.edu/arts.