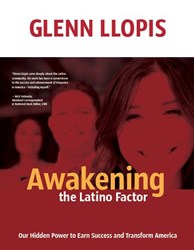 Opportunity is here – all around us – but not enough of us are taking advantage of it and contributing to this country in meaningful ways.
Irvine, CA (PRWEB) September 17, 2013
As the majority-minority in this country since 2008, the economic current of America runs directly through the Hispanic community. Hispanics represent 16% of the United States population and that number is projected to reach 30% by 2050. That makes Hispanics the country's largest economic development engine for reclaiming America's global competitiveness. "My goal with this ebook is to create in Hispanics a sense of urgency and heightened level of responsibility based on our vast presence in America," says ebook author and CHL Founder/CEO, Glenn Llopis, who also writes for Forbes, the Harvard Business Review, and the Huffington Post, "and explain how business, government, and the media-at large can leverage its greatest unknown resource."
According to CHL, in order to change the current context and conversation about U.S. Hispanics from misrepresented stereotypes to catalysts for growth, the business world needs to think of Hispanics and their immigrant perspective as a powerful source to help America that will strengthen global competitiveness, prepare organizations for global market expansions, and create new products and services.
The ebook explores such topics as the Hispanic identity crisis in America and how it has encouraged the misperceptions and stereotypes about this community and the lack of and legitimate need for Hispanic voices and leadership in the media, the entertainment world, and in the political arena.
"Always just a bit ahead of the curve, Glenn possesses uncommon and essential insight into the needs and wants of the diverse Hispanic community in the United States," says Jamie Reno, an award-winning journalist who's written for Newsweek/The Daily Beast, The New York Times, Los Angeles Times, USA Today, MSNBC). "He is a trusted and valuable resource."
Adds Llopis, whose organization recently launched a new development and strategy consultancy division, CHL Marketing Lab, which is focused specifically on the Hispanic market, "Opportunity is here – all around us – but not enough of us are taking advantage of it and contributing to this country in meaningful ways."
The ebook also features special bonus content including Hispanic strategy and marketing blogs, Hispanic resource links, and information on CHL's newest Hispanic online training product Know Your Hispanics. To purchase the ebook ($12.99), please visit http://www.awakenhispanicfactor.com.
About CHL Corporate
We build brands from the outside in.
Instead of selling to Hispanic consumers, let them help build your brand and enable them to influence its growth.
We develop Hispanic leaders from the inside out.
By embracing their unique immigrant perspective instead of assimilating so quickly, Hispanic employees are enabled to innovate and lead your business with cultural authenticity.
As the only Hispanic human capital, business development, and marketing consulting firm of its kind, CHL's unique approach is centered on building leaders and building brands by clearly demonstrating how these two facets are interconnected and dependent on each other. To learn more about CHL Corporate, visit us at: http://www.centerforhispanicleadership.com