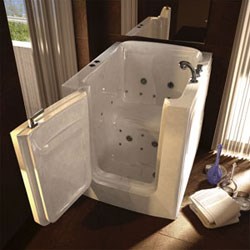 Free standing hydrotherapy walk in tubs without tile flanges!
Denver, CO (PRWEB) September 17, 2013
National wheelchair accessible handicap shower and hydrotherapy tub distributor, Aging Safely Baths announces self standing walk in bathtubs without tile flanges. The company will now offer a variety of step in tubs without tile flanges that are ideal for installations without surrounding walls. Customers that require a front entry step in tub can select a 32" x 38" or a 27" x 39" size tub.
These unique freestanding tubs have finished edges and can potentially enhance the bathroom decor as well. Ultimately, these products attempt to make accessing a bathing appliance easier and less obtrusive for people that have difficulty bathing without fear or independently. Taking a bath can be especially hard for the elderly and disabled. For some people, it can even become a frightening experience. In some cases, this can lead to avoiding taking showers and bathing all together.
Being able to clean the body is an essential part of good hygiene. Senior bathtubs that have low step in entrances and wheelchair-accessible disability showers may make bathing possible again for some people. These unique appliances have incredible features such as textured flooring, temperature control devices, hand held shower wands and built in seats.
According to Aging Safely, the self standing bathing appliances can be installed into residential and commercial locations. Several of the shower models are fully ADA compliant and can come multi-piece or as a one-piece shower stall. Threshold heights range from .5" to 4" and higher. Several of the handicapped showers can come with a removable wheelchair ramp as well. Depending upon the project specifications and flooring material height, a flush transition can be achieved in some cases.
The company provides a variety of bathtub and shower products. The shower pans offered have .5" plywood reinforcement and do not require to be mud set. This can potentially shave off installation time and cost of materials. Several of the shower pans offered can be installed out of the box and don't require any kind of setting to help with structural integrity.
Customers can enjoy the discounts as well, as the company has no cost shipping to most locations across the country. Safety bars, bathtub pillow cushions, bath lifts, transfer tubs and the steam spa generator also qualify for no cost freight. Homeowners, commercial organizations and contractors are invited to contact a customer care representative for a no cost consultation.
Contact Information:
Zach Wennstedt
1-888-779-BATH(2284)
info(at)Agingsafelybaths(dot)com