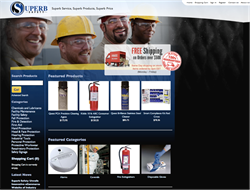 At Superb Safety, our e-commerce mission is the immediate fulfillment of industry leading products at the lowest price possible
Los Angeles, CA (PRWEB) September 17, 2013
Superb Safety, http://superbsafety.com, offering the latest and highest quality safety products at the most competitive pricing on the market today, introduces a newly designed home page on its fully-featured website. Superb Safety has updated its current site with a fresh homepage, new hi-resolution images and a better search functionality that are all intended to enhance the customer experience. In addition, they have also created a new pricing structure providing further discounts for bulk purchases. These substantial reductions in price will assist all companies in achieving a more profitable bottom line. The site will retain the same principles of price, quality and service that have been the hallmark of Superb Safety's philosophy since the company's inception in 2011.
The new website offers the latest in web technology for quick and easy access to the highest quality Industrial & Personal Safety Products on the market today. The new site reflects the organization's on-going efforts to enhance the quality and availability of information to customers worldwide. Also, the virtual store highlights the company's mission to provide businesses with the most intuitive, efficient and cost-effective solutions available on the internet today.
"At Superb Safety, our e-commerce mission is the immediate fulfillment of industry leading products at the lowest price possible. No business is ever too small to receive superior and individualized customer service and attention, and that sets us apart from many other businesses on the internet today. Additionally, our customers appreciate the convenience of placing orders via mobile devices and the internet," said Debbie Peters, Superb Safety CEO.
Superb Safety's website highlights the most popular and highest-rated safety products from manufacturers such as QuestVapco, Kimberly Clark, Kidde, MCR, Badger, MSA and many more. Visit our new virtual store at superbsafety.com.
Products and services from Superb Safety include:

Chemicals and Lubricants
Facility Maintenance
Facility Safety
Fall Protection
Fire and Detection
First Aid
Hand Protection
Head and Face Protection
Hearing Protection
Industrial Tools
Personal Protection
Protective Workwear
Respiratory Protection
Safety Signage
About Superb Safety:
Superb Safety's mission is simple - provide the best products and service to our customers at the lowest prices
possible. Headquartered just outside Los Angeles, California and representing the safety and protection interests of companies and organizations across the United States and worldwide, Superb Safety offers a full spectrum of safety industry products from chemicals to personal protection, all designed to protect today's workforce and the customers they service. For company information and to view the entire Superb Safety product line please visit http://superbsafety.com