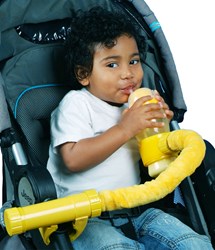 Just as the mini-van came along to provide relief for them... I believe that the Mother's 3rd Arm is going to be just as impactful in their lives.
San Francisco, CA (PRWEB) September 27, 2013
"The only kid's product of its kind on the market," according to Dr. Salma, MD, "is being exhibited this year at the 2013 ABC Kid Expo."
Dr. Salma is founding CEO of Aakilarose, Inc., and a U.S. corporation which manufactures a variety of products for different industries. After selling more than 100,000 units in its original version, without any formal marketing efforts, the worldwide licensing was purchased by her company for an undisclosed amount, after conducting $75,000 in market research, and this year she and her executive team is launching the newly revised version.
President of sales and marketing, David Merritt, during a phone interview stated, "We had to get creative on determining our retail price point. During 2012-2013, we conducted 47 focus groups from New York to California, totally over 600 moms, and a smaller number of fathers and others, in order to develop the matrices for producing new retail packaging, website design and perfecting the new Mother's 3rd Arm version itself. What we learned was when we offered a $50 American Express Gift Certificate or a Mother's 3rd Arm to compensate them for their time, 90% would opt for the 3rd Arm. But once we offered $75 that number would drop to only 30%, which is still a decent indicator."
David Sierra has a history of being a high powered sales executive in the Silicon Valley tech industry, but after dealing with an unexpected disability, he decided to reenter the business by taking up a lead position with the Company. He reported in phone interview, "I've been patiently waiting for an opportunity to get back into sales with a product which I could not only believe in, but one that truly provided benefits for the end user. I have reviewed tons of data and anecdotal input from parents and care takers, and I have never seen any product or service receive such consistent and strong remarks. Today's parents are struggling to juggle numerous things. We even created a word for this--multitasking. Just as the mini-van came along to provide relief for them to get around, I believe that the Mother's 3rd Arm is going to be just as impactful in their lives."
"Just imagine," Mr. Sierra continues, "even the U.S. Department of Transportation has reported that an estimated 18% of car accidents throughout the United States can be traced to parents having to deal with and care for children who are in the back seat. That is, giving them a bottle or Sippy cup more times than not. So I ask you, if we can eliminate parents having to deal with this one issue while driving, not even considering while cooking, cleaning and doing other tasks at home and elsewhere, this would save thousands of dollars per family and possibly lives. Isn't this something that is revolutionary and needed, no matter that its simple?"
Dr. Salma personally overseas the materials that are purchased and produced for each batch of Mother's 3rd Arm in order to avoid all toxins and hazard materials such as lead, phalates, BPH and other things. They have never failed to pass the U.S. Consumer Product Safety Commission standards and certification.
The Mother's 3rd Arm, otherwise patented under the names Universal Flexible Arm and Multiple Flexible Bottle, Cup, Cell Phone & Toy Holder in 2013, is a light weight and durable device which firmly attaches to most surfaces of Juvenile products where kids would need to access their drink, food or other devices at. This includes car seats, strollers, highchairs, beds and more. Several parental consumer groups have also reported the utilitarian uses of this one-of-a-kind device, and our research have found some products attempting to copy this bottle and Sippy cup holder, however, none actually attaches to the Juvenile products as this does.