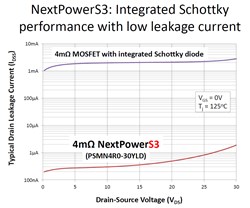 Eindhoven, Netherlands and Manchester, United Kingdom (PRWEB) September 17, 2013
NXP Semiconductors N.V. (NASDAQ: NXPI) today announced the release of NextPowerS3, a new high-performance 30V MOSFET platform incorporating the company's unique "SchottkyPlus" technology. NextPowerS3 is the industry's first MOSFET to deliver the high frequency, low spiking performance usually associated with MOSFETs with an integrated Schottky or Schottky-like diode but without problematic high leakage current. NextPowerS3 30V is suitable for a variety of applications, including high efficiency power supplies for telecoms and cloud computing, high performance portable computing and battery-powered motor control, such as rechargeable power tools.
The trend in recent years has been to create faster and faster switching MOSFETs in an effort to reduce switching losses and increase the efficiency of switch mode power supply (SMPS) designs. However, faster switching on its own can generate problems in terms of switch node voltage spikes, coupled gate glitches and the potential for shoot-through, raising EMI and reliability concerns.
One popular solution has been to integrate Schottky and Schottky-like diodes into MOSFET structures. However, Schottky diodes introduce high leakage currents, especially at elevated temperatures, which impact efficiency, battery life and the ability to screen for defectivity in the manufacturing process. Combining super-fast switching with soft recovery, NXP's NextPowerS3 range addresses each of these concerns, delivering increased efficiency and higher power density, while keeping voltage spikes under control and limiting leakage current to less than 1 µA.
"Everyone knows Schottky diodes are leaky, especially when they are hot," said Chris Boyce, head of MOSFET marketing and business development for NXP Semiconductors. "And whilst it may be possible to design around leakage of a milliamp or two, our biggest concern is quality. We use leakage current as an important screen in our drive for zero-defect manufacturing. Trying to identify problem devices in a population with inherently high leakage is like trying to hear a whisper during a fire alarm. The sub-microamp leakage of NextPowerS3 means that NXP is not faced with this problem."
Features

High system efficiency through ultra-low Qg, Qgd and Coss
Reduced switch-node voltage spikes; EMI friendly
Unique SchottkyPlus technology; integrated Schottky performance without high leakage current
No wire bonds, no glue; qualified to 175°C
Links

About NXP Semiconductors
NXP Semiconductors N.V. (NASDAQ: NXPI) creates solutions that enable secure connections for a smarter world. Building on its expertise in High Performance Mixed Signal electronics, NXP is driving innovation in the automotive, identification and mobile industries, and in application areas including wireless infrastructure, lighting, healthcare, industrial, consumer tech and computing. NXP has operations in more than 25 countries, and posted revenue of $4.36 billion in 2012. Find out more at http://www.nxp.com.
Forward-looking Statements
This document includes forward-looking statements which include statements regarding NXP's business strategy, financial condition, results of operations and market data, as well as other statements that are not historical facts. By their nature, forward-looking statements are subject to numerous factors, risks and uncertainties that could cause actual outcomes and results to be materially different from those projected. Readers are cautioned not to place undue reliance on these forward-looking statements. Except for any ongoing obligation to disclose material information as required by the United States federal securities laws, NXP does not have any intention or obligation to publicly update or revise any forward-looking statements after NXP distributes this document, whether to reflect any future events or circumstances or otherwise. For a discussion of potential risks and uncertainties, please refer to the risk factors listed in NXP's SEC filings. Copies of NXP's SEC filings are available from the SEC website, http://www.sec.gov.