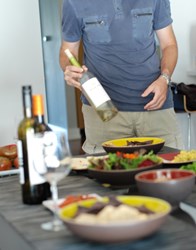 The experience this summer has been fantastic and we are already planning our next swap in Christmas
San Francisco (PRWEB) September 18, 2013
The Co-Founders of Knok offered to cook up some traditional Spanish tapas for their guests to enjoy.
The main reason behind the lunch, besides enjoying delicious home-cooked food, was to spark an open discussion about home exchange and the great benefits of having a local-experience when traveling abroad.
Half of the lunch guests were familiar with home exchange, while others were just testing the waters by joining a club for the first time. Home exchange, similar to sharing a meal in a local's home, are genuine ways to connect with new people, and learn about different cultures and ways of life. "A stay in a hotel seems cold and superficial after trying a home swap," explained one of the members. " We don't want to go to a hotel with our family any more, we are considering doing only home swaps. The experience this summer has been fantastic and we are already planning our next swap in Christmas," and that is one of the main benefits that home exchange offers to their members.
This is one of the main reasons why families seek out new ways to travel, to find more authentic and rewarding vacations. Most of the members of these sharing platforms discover that by "going local", their vacations become filled with unexpected pleasures. In every destination it's possible to uncover the hidden treasures of the locals through a home exchange and also through experiences as Feastly that provides authentic food with real people, offering homemade meals prepared and served in a cook's home.
The lunch also served as a great opportunity for new members to learn about how home exchange with Knok works and to ask questions to the real home swap pros. "It has been the perfect opportunity to talk and enjoy the stories and experiences of experienced home swappers" explains one of the guests. The meal ended with a toast to future travels and home swaps to be had, and everyone had their heart set on swapping this upcoming year.