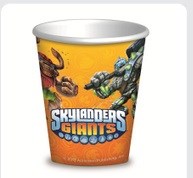 As a trade only supplier, House Parti have created an eCommerce shopping experience specifically geared to the needs of their trade customers
(PRWEB UK) 17 September 2013
If Prism Break, Flashwing, Ninjini, Lightcore Pop Fizz and Spyro don't mean much to you, they sure do to millions of kids and teenagers round the world. An extremely lucrative franchise in the gaming industry with over 30 million toys sold worldwide, Skylander's success has been phenomenal.
Now the Skylander range is available to buy online at the Leicester based balloon wholesaler House Parti. With kids loving the chance to theme their party with their favourite characters from the video game, House Parti's range of Skylander party supplies include paper cups, paper plates, napkins, tablecloths, invitations, loot bags and foil balloons to bring the Skylander adventure to life in your own home.
As the largest online foil balloon wholesaler and party ware supplier in the Midlands, House Parti have amassed a simply enormous collection of party supplies with ranges from many of the major manufacturers, including the likes of Amscan, Oaktree, Bobofunn, Anagran, Creative Party, Unique, Qualatex and many more. With such a huge selection housed under one roof, House Parti offer a convenient one stop shopping experience for their trade customers who are registered with a trade account.
As a trade only supplier, House Parti have created an eCommerce shopping experience specifically geared to the needs of their trade customers. Supplying all manner of retailers and resellers including high street stores, decorators, newsagents, entertainers to etailers, all bonafide businesses can apply for a House Parti trade account and can start benefiting from competitive trade prices, access to an enormous range of stock and free next day delivery on orders over £50.
Peter Uppal, Managing Director of the long established House Parti business says, "We've seen huge demand for themed party supplies. It's no surprise the hugely popular 1D range of tableware has been selling incredibly well, along with Angry Birds, High School Musical and Lego City. We are anticipating the Skylanders range is going to be hugely popular if pre-orders placed to date are anything to go by."
Certainly the gaming, film and music industries are having an influence on the choices made by children and their parents as to their choice of clothes, toys, bedroom decor and types of parties they are choosing, which is creating enormous growth across sectors like party supplies, who are also enjoying benefits from the staycation theme that has been a prevalent one during the period of recession and economic uncertainty that has blighted the globe over recent years.
Peter adds further that the purchase of party supplies is no longer confined to just traditional birthday parties. Parents are buying paper plates, cups and napkins for kid's sleepovers, car journeys, picnics and weekend breaks as both a fun and convenient option for families.
To buy the Skylander party range online from House Parti, simply go online and register for a trade account. Visit House Parti today to browse their enormous collection of wholesale party supplies. Visit http://www.houseparti.co.uk or phone their friendly team on 0116-2710100.