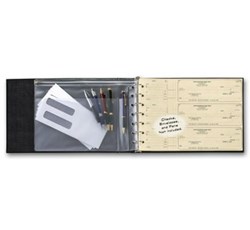 The company believes in rewarding current customers.
Monroe, NY (PRWEB) September 24, 2013
Online business checks retailer Print EZ has recently announced a great offer on business checks. The company is offering a free check binder with every order of business checks that is more than $100. The offer is being made to all customers and is not limited to first time customers, as in the case with many other offers that one sees on the Internet.
The free business checks binder has placeholders for writing instruments, visiting cards and deposit slips. It also has an easy clip that allows customers to slip in new business checks that come in. The checks binder is professional and something that most business executives would like to have.
In a statement Morris Rose, CEO, Print EZ says, "The company believes in rewarding current customers too. While customer acquisition is an important part of the strategy, there is no way that existing customers should be ignored. This offer has been created mainly to reward and appreciate the customers that have been with us for a long time and continue to purchase from Print EZ."
In keeping with the strategy detailed by the CEO, Print EZ has also revamped the loyalty program. The EZ rewards program allows for a 3 percent back on every purchase that is made. This is a program that a customer can enroll in from the first purchase and take back a 3 percent discount each time.
While Print EZ has created various offers to ensure customer retention, the company is surely not ignoring the first time customer as well. There is a 10 percent discount on the entire order placed by the first time customer. The two pronged strategy has been created to ensure that new customers continue to join while old ones are retained.
These offers are available on all categories of business checks that are available online. The most popular and fast selling business checks, One Write Checks, 3 to a page business checks and deposit slips too. The company also offers check supplies like bank endorsement stamps, cash deposit bags, dividers and tabs, fraud prevention pens, file system labels and filing cabinets too. With these categories, the company offers a comprehensive set of all that a company can need in the area of business checks.
Despite the many offers that the company offers, focus on customizations and customer service continues in the company. While ordering business checks, customers can choose the background color, add in a watermark, the company logo and address too. These customizations are offered free of cost and therefore are another reason for the customer to shop at Print EZ.
Customer service is another aspect of running the business that Print EZ has not slipped up on.
Despite managing the various promotion offers, the customer service team is available in the form of live chat on weekdays, email and phone calls. Orders placed can also be tracked on the site.
Print EZ seems to be covering every area of business with respect to business checks. The product offerings are comprehensive, the promotion offers alluring and the customer service impeccable.
Get more information about how Print EZ offers and new launches on QuickBooks checks at Print EZ or call the company at 1-888-246-0635.
To read more about Business Checks click here http://www.printez.com/business-checks.html.
To read more about QuickBooks Checks click here http://www.printez.com/quickbooks-checks.html and get regular updates of new offers and deals here.
Print EZ
4 N Main St.
Monroe, NY 10950
(845) 782-5832