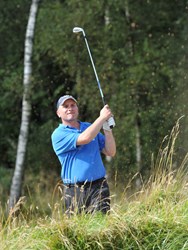 Mercedes-Benz Hertfordshire Golf Challenge
Stevenage, London, UK (PRWEB UK) 17 September 2013
Rob Thompson, who is a member at Letchworth Golf Club, will be part of a team of three representing 'Team UK' in the MercedesTrophy Nations Cup in Germany.
The event is the culmination of a competition that is entered by thousands of existing and potential Mercedes-Benz customers representing more than 50 countries. It takes place in Stuttgart, the home of the motor manufacturer, and tees off on 26th September.
Five-handicapper Rob's participation began two years ago and he has had to come through four competition stages. In 2011, he won the Mercedes-Benz Hertfordshire Golf Challenge at his local club and was then victorious in a group final at Hanbury Manor.
Last summer, Rob represented Mercedes-Benz Hertfordshire in a MercedesTrophy semi-final at New Zealand Golf Club from where he progressed to the UK Final at St Andrews in Scotland. After two rounds on The Duke's and Kingsbarns Golf Links courses, Rob secured his World Final place on the final green.
During the five-night trip to Germany, Rob will play three competitive rounds and partake in various social events including an official opening ceremony where he will dress as an English gent in pin-stripe suit and bowler hat. He will also be given a guided tour of the main Mercedes-Benz production centre at Sindelfingen and visit the factory of the AMG performance brand.
"With the organisation and hospitality, this is a glimpse into the world of a professional golfer as the treatment from Mercedes-Benz is very special," said Rob, who works as a sales agent for a packaging manufacturer based in Israel and will be joined on the trip by his 81-year-old father, Tom.
"Since qualifying last year, I have been very excited and I want to do well but I already feel like a winner having got this far in the competition," he added. "Reaching the final has provided even more of an incentive to get out on the course and practice and I feel my game is in decent shape to be able to give it a really good go when I'm out there."
Mark Whitworth, Mercedes-Benz Hertfordshire's Group Marketing Manager, wished Rob the very best of luck in Germany.
"Golf is enjoyed by many of our customers and more than 2,000 players from 24 clubs now compete in the Mercedes-Benz Hertfordshire Golf Challenge that we have run for the past eight years," explained Mark.
"The MercedesTrophy generates huge interest as it is a superbly-organised global tournament and it is also a competition that we hold in high esteem within the Mercedes-Benz retail network," he continued. "We are delighted that Rob will be representing us in the world final and we hope that he will maintain the winning form that he has shown throughout the competition."
END
Author: David Newman from Mercedes-Benz Hertfordshire
About Mercedes-Benz Hertfordshire - L & L Automotive
L&L Automotive is the driving force behind a dynamic retail network aimed at enhancing sales and after sales services for the region's existing and prospective Mercedes-Benz, AMG and smart customers.
Encompassing retail outlets in Bishop's Stortford, Hertford and Stevenage, the group is operated by L&L Automotive – a company boasting a lengthy and successful history.
L&L's Mercedes-Benz businesses moved into Hertfordshire in July 2002, when it was selected as one of Daimler UK's key business partners in establishing a revitalised national retail structure.
L&L Automotive. is a company registered in England and Wales with company number 4415393
VAT No. 794 6047 92
Mercedes-Benz of Stevenage : 01438 737800
Mercedes-Benz of Bishops Stortford : 01279 719333
Mercedes-Benz of Hertford : 01992 514444