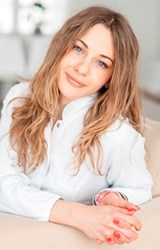 ...good results can be achieved with non-invasive methods. Surgery is not always the best option. i-Lipo enables us to offer a non-surgical approach to body shaping...
London (PRWEB UK) 17 September 2013
Clinicbe is a successful business led by Dr Barbara Kubicka MD best known for providing doctor-led non-surgical skin treatments. From popular anti-aging injections to collagen-boosting treatments, there is a wide array of treatments to tackle wrinkles and skin conditions to improve the skin's appearance. The company has a particular reputation for offering innovative treatments too, such as their exclusive Triple Synergy Hair Loss System, Eyedealise treatment and Neck and Jawline Programme all developed by Dr Kubicka herself.
Now they are investing in new laser lipolysis technology to offer their patients a range of non-surgical treatments aimed at the body with the award-winning i-Lipo.
Dr Kubicka explains: "I work closely with my patients to get the best possible results for their skin. It's not just about administering cosmetic injections or peels to smooth the skin; we also take care to review the patient's nutrition and lifestyle patterns for a holistic approach that works from the inside too. It's an approach based on integrated skin and healthcare, aimed at targeting any underlying causes for the best outcome."
"Many of my patients talk about concerns or frustrations regarding their body shape. Even those that work out regularly are often troubled by stubborn areas that are unresponsive to training; such as tummies, buttocks, saddle bags and cellulite."
"Alongside our dietary and lifestyle advice, we are introducing i-Lipo laser lipolysis technology to offer effective body shaping and contouring treatments. We've chosen this award-winning technology for its visible results without surgery."
i-Lipo is a system based on advanced laser lipolysis technology. It uses a clinically proven technique using low-level laser energy to target pockets of fat. The laser targets particular areas of fat or cellulite and stimulates the body's fat burning processes in a safe and controlled way.
i-Lipo laser treatment achieves similar results to liposuction in a safe and painless process which is suitable for all skin types and body areas. Patients can see results immediately after treatment although a course is recommended. Results naturally depend on the patient's body shape and how much fat there is to lose, though i-Lipo's manufacturers have shown up to 30% reduction in the fat layer depth after just one treatment and up to 24cm off the waistline over a 4-week programme.
Dr Kubicka concludes: "The skin treatments we offer demonstrate that good results can be achieved with non-invasive methods. Surgery is not always the best option. i-Lipo enables us to offer a non-surgical approach to body shaping too."
"We are delighted to add this to the range of services available in our new Knightsbridge clinic, where we offer comfortable and private facilities for all our patients."
Dr Barbara Kubicka MD, CIME/ICAM, MBCAM is a fully qualified doctor, registered with the GMC and with additional qualifications in aesthetic treatments from the world-renowned College de International de Medicine Esthetique in Paris.
She founded clinicbe to offer a new holistic approach to skincare treatments; treating the patient as a whole in order to get the best possible results from any treatments they may have. Private consultations include individual advice on nutrition and lifestyle to help tackle skincare issues from within and compliment professional treatments. Popular treatments include wrinkle-relaxing injections and facial fillers as well as mesotherapy and dermaroller.
clinicbe® is based in Belgravia, Knightsbridge, London. For further information or to arrange a confidential consultation, please contact the clinic.