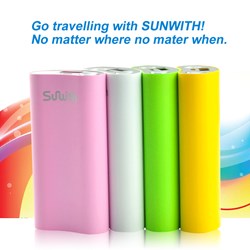 Guangzhou, China (PRWEB) September 19, 2013
Guangzhou Sunwith Co., LTD pushed out two types of external batteries. Both types have kept the advantages of well-designed in shaping and convenience which accord with the mainstream demands of consumers. Besides, to meet different market needs, the company is under ongoing technological innovation. Following are detailed information of two types for reference:
1. SW-WL56 External Battery
This kind of external battery is commonly designed in U shield appearance, or in other words, the shell-shape, which has a comfortable grip. Four colors for consumers to choose and it is very high-end and fashionable. Its shapely design can not only meet the needs of battery charging, but also meet the love of beauty.
2. SW884 External Battery
This type is not only good in appearance, but also excellent in performance. Its target consumers are business men. It has a comfortable grip and is easy to be carried with. It has two switched connectors, which facilitate the recharging of any mobile devices. Flexible design of recharging of power pack makes it can be charged via notebook USB port with USB charging cable. The white or black color shows business men's steady and methodical ways of living.
With the rise in global economy, people's living standard continues to improve, portable electronic products are also thriving, such as laptops, mobile phones, digital cameras and so on. Thus, power bank, especially the 2000mah external battery with a large electric capacity, has been essential, because the low electric capacity fails to meet the prolonged use of the device.
Sunwith Co., LTD, founded in 2005, is the subsidiary company of Global Vision Group (HK) limited, working on designing, producing and marketing power bank, case and other accessories for mobile phone, tablets and other electronic devices, serving both international and local clients.
Media Contact
Website: http://www.external-battery.net/
E-mail: sales(at)external-battery(dot)net