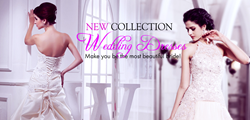 (PRWEB) September 17, 2013
Recently, Fairyin, a leading company of women's dresses, has announced a special offer on all its wedding accessories (wedding gloves, wedding veils, wedding shoes and more), up to 67% off.
An elegant wedding dress is attractive for every bride. However, wedding accessories are necessary for a memorable wedding. There is an increase in demand for high-quality wedding accessories in the global market now, which is the main reason why Fairyin launches such a promotion. In addition, Fairyin's good public praise pushes the CEO of the company full of confidence to make the decision.
Fairyin is regarded by many customers as a reliable dress company. Fairyin's designs are constantly ranked #1 on many review websites. Tina, a customer from London, said, "I have placed quite some orders at Fairyin, and what impresses me most is that I can always find the latest style there. Furthermore, the prices are much lower than others."
A sales manager of Fairyin says, "The online market is the most important market for our company. All competitive products should have great market potential there. We are happy to see faster growth of our online business. We hope to acknowledge our customers through better products and services."
About Fairyin.com
Founded in 2008, Fairyin.com is one of the recognized leaders in women's dresses specializing in providing high-quality trendy dresses for all its clients around the world. The company has a group of designers who create elegant designs for customers all over the world. To find more information about Fairyin wedding dresses, please find it at:
FACEBOOK: http://www.facebook.com/Fairyin
TWITTER: http://twitter.com/Fairyin