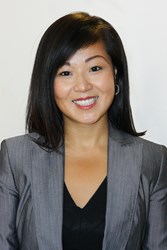 With Planet Depos' amazing growth, it's a very exciting time to be joining the company.
Washington DC (PRWEB) September 18, 2013
Planet Depos LLC, an international court reporting and legal videography firm, is pleased to announce that Hollie Ashby has joined the company as Senior Sales Executive. Hollie has a proven track record in managing complex litigation for law firms and corporate counsel, including Fortune 25 companies, for nearly a decade.
"We're delighted to welcome Hollie to the Planet Depos team," said Bill DiMonte, a principal of the firm. "She is a high-performing sales executive with a special ability to create trusted relationships. Her role will be critical to our growth strategy as we look to expand the Planet Depos footprint, while supporting our existing client base."
Hollie is involved in several legal and professional associations, including Women in eDiscovery, American Business Trial Lawyers, California Women Lawyers, and Ms. JD. In her spare time, Hollie is involved in several philanthropic organizations focused on world hunger and education.
Based in the San Francisco Bay area, Hollie will assume the role of managing and strengthening existing client relationships, demonstrating Planet Depos' state-of-the-art technology service offerings throughout the discovery process, while working to develop new business opportunities. "With Planet Depos' amazing growth, it's a very exciting time to be joining the company," commented Ashby. "I am delighted to be working with individuals who are passionate and knowledgeable about what they do and who are so well respected in the legal industry. "
About Planet Depos
Planet Depos is the only international court reporting agency led by court reporters with proven track records in the industry. Planet Depos provides best-in-class court reporters, videographers and interpreters throughout the United States and abroad to U.S. and international law firms, worldwide corporations, and government entities. With extensive experience in the management of cases of every size, including state, federal, ITC, cross-border, antitrust, and multi-district litigation taking place around the globe, Planet Depos has offices throughout the U.S. and six offices in Asia with more than 1,000 court reporters and 500-plus videographers deployed around the world.