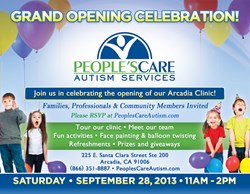 People's Care: Changing lives, Shaping the Future.
Chino Hills, California, (PRWEB) September 24, 2013
People's Care Autism Services announces the grand opening of its innovative autism treatment center in Arcadia, California.
To be held this Saturday, September 28, 2013, from 11am-2pm at 225 E. Santa Clara Street Suite 200 Arcadia CA 91006, People's Care will be opening its doors to the community to celebrate the opening of the Arcadia Autism Treatment Center. Parents can bring their children to enjoy a day of fun activities like face painting, balloon twisting with refreshments, raffle prizes and giveaways!
Guests can also tour the clinic, get to know the Autism Services team and personally meet People's Care CEO, Michael Kaiser.
People's Care Autism Services was founded in 2012 to provide high-quality, person centered, innovative autism treatment. People's Care Autism Services provides services to children and youth based on the principles of Applied Behavior Analysis, a treatment method validated by extensive research and recommended by the American Academy of Pediatrics and US Surgeon General. Services are provided in the individual's home on a 1:1 basis as well as social skills groups in the Arcadia clinic.
People's Care Autism Services, Inc. is an affiliate of People's Care, Inc., a leading health care industry provider and one of Inc. 5000's fastest growing companies in the United States.
For more information about Peoplescare Autism Services, please contact Cristina Cordeiro, Clinical Director, People's Care/Peoplescare Autism Services or visit the website at http://www.peoplescareautism.com.