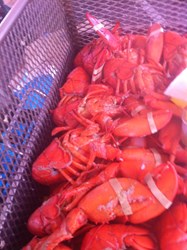 "Each year the Lobster Fest keeps growing and so our capacity has to grow. That put us on the path to create the world's largest lobster pot," said Mike Ungaro, VP, San Pedro Fish Market
San Pedro, CA (PRWEB) September 17, 2013
Facing the challenge of feeding tens of thousands of lobster hungry festival goers led the team of San Pedro Fish Markets and Restaurants to a simple conclusion months ago that they had to build the world's largest lobster pot.
"As California's largest fish market and restaurant with over 2,000 seats, we know how to create incredible meals for huge groups of people," said Mike Ungaro, Vice President of San Pedro Fish Market. "Each year, the Lobster Fest keeps growing and so our capacity has to grow. That put us on the path to create the world's largest lobster pot."
Each year in mid September over three days, the world famous Ports O'Call hosts its acclaimed Lobster Fest, which each year attracts more than 20,000 diners hungry for complete lobster dinners for $20 and up served in a lively festival atmosphere with top bands, local vendors, and all around fun. This year's entertainment was headlined by the English Beat over the three day festival, stretching from Friday, September 13 through Sunday, September 15.
"On any given weekend, we serve diners that have driven up to 100 miles to get to us, or in many cases included us in their vacation plans from around the globe," explained Ungaro. "This forces us to look at each meal individually, cook it with the individuals at the table in mind, and serve them like they were our family. That was the challenge with the lobster pot - being able to translate that level of quality to 1,100 lobsters at once!"
Using a mobile platform as the base, San Pedro Fish built a pot of its own design that involves a winch to lower the live Maine lobsters into the boiling water at once. Video of the world record, and the observer from Guinness Book of World Records certifying the feat can be found at San Pedro Fish Markets Facebook page at http://ow.ly/ob0xa.
For more information on LobsterFest 2013, click http://ow.ly/oBFhS.
About San Pedro Fish Market & Restaurant
Founded in 1957, San Pedro Fish Market & Restaurant has grown into a top rated destination on the LA waterfront whose seafood, Lonely Planet described by saying, "Seafood feasts don't get any more decadent than at this family-run harbor-view institution." Routinely serving more than 10,000 diners each week, San Pedro Fish Market is also one of the most recognized brands in the frozen food section of premium and mass market supermarkets across the Southwest and Hawaii selling in four microwavable versions of our world famous shrimp tray. Just as at the restaurant and market, all ingredients are the freshest available and meant to be prepared and enjoyed directly in the kitchen with your favorite ice cold beverage. For more information, go to our website at http://ow.ly/obvmS.