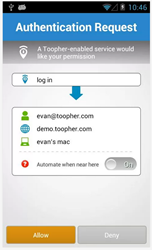 Fairfax, VA (PRWEB) September 18, 2013
LastPass, the company that's helping the world remember their passwords and better manage their online lives, has announced it is now supporting multifactor authentication with Toopher, online security's user experience company. Joining the family of multifactor authentication methods that LastPass already supports, Toopher provides more flexibility for LastPass users and furthers the mission of helping consumers be proactive about their online security.
Multifactor authentication requires the use of a second piece of information or a device that generates that information before allowing access to an online account. Two pieces of data must still be entered by a user – username and password, then a code or generated key that the user provides with a device or app is entered to strengthen the authentication process. Adding multifactor authentication creates a significantly more secure authentication process, so that even a compromised password does not translate to a compromised account. By enabling multifactor authentication with their LastPass account,users are mitigating the risk posed by ever-increasing breaches of online sites.
The key advantage to LastPass's implementation of Toopher is that there is zero user intervention required once installed unlike traditional two factor security solutions. Toopher can be downloaded from the app stores on the user's Android or iOS device. Once downloaded, the user will go through steps to enable the multifactor authentication method via their LastPass account settings. After enabling Toopher with a LastPass account, the user will be prompted to "allow" access via the notification sent to their phone or this authentication process can be automated in known and approved locations.
"Providing as many multifactor options for our customers as possible allows them to protect their LastPass account in the way that works best for them," says LastPass CEO and Co-Founder, Joe Siegrist. "If LastPass generates and fills your passwords, and you utilize multifactor options like Toopher, you get most of the benefits of having all your services protected by multifactor."
"We are excited to offer Toopher's ease of use and enhanced security to LastPass customers," said Josh Alexander, Toopher's CEO. "Toopher is the next generation of information security - that is, security that adds conveyance and ease of use to its users versus the traditional model where incremental barriers are added to the user experience. We are excited to partner with LastPass, as both our enhanced security offerings are all about improving the user experience."
Availability
LastPass currently supports Toopher on iOS and Android, and is free for LastPass consumers. Toopher can also be added on to LastPass Enterprise accounts with additional licenses.
About LastPass
LastPass (http://www.LastPass.com) is the leading password and data management service, providing online users worldwide an easy, fast, and secure way to manage access to their digital life. It's free to install on all browsers and computers, with a Premium upgrade for mobile access and added features. LastPass Enterprise provides a centralized and cost-effective password management platform for organizations, with the option to add SAML-based single sign-on for federated identity management of cloud applications. LastPass is a Fairfax, VA-based company founded in April 2008.
About Toopher
Toopher is an invisible, location-based authentication solution designed around user behavior and powered by your phone's location awareness. By marrying the strongest state-of-the-art, true out-of-band pervasive technology with decidedly lean and thoughtful user experience, Toopher automates the authentication process via your phone--not only preventing online fraud and identity theft, but creating a security solution that people actually want to use. No more passwords hacks, no more codes. It's simple, secure, and your phone stays in your pocket. Founded in 2011 by a University of Texas PhD student and an adjunct professor, Toopher is funded by Alsop Louie and is a portfolio company of the Austin Technology Incubator. To learn more and try it for yourself, visit http://toopher.com and follow us @toopher