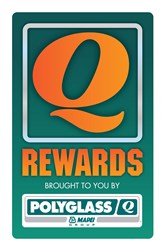 Deerfield Beach, FL (PRWEB) September 17, 2013
Earning rewards for purchases is not a new concept, but earning rewards for purchasing Polyglass products is a newly launched program from Polyglass U.S.A., Inc. A leading manufacturer of modified bitumen membranes and roof coatings in the commercial and residential roofing industry, Polyglass recently introduced its Polyglass Q Rewards program as a way of saying "Thank You" to professional roofing contractors. There is no cost, no commitment and no catch. Simply purchasing eligible, high quality Polyglass products allows contractors to earn rewards points.
"With its origins as a roofing contractor, Polyglass recognizes the valuable role that roofing contractors play as part of its business," commented Melissa Mulligan, Polyglass marketing manager. "We strive to continually provide innovative products and services and we are proud to say that the Polyglass Q Rewards program is one the best rewards programs available to contractors in the market."
To enroll in the program, register at http://www.polyglassqrewards.com. Eligible purchases made on or after September 1, 2013 will qualify. To find out more, contact a local Polyglass representative.
About Polyglass: Polyglass U.S.A. Inc. is a leading manufacturer of modified bitumen roof membranes. Known for its self-adhered roofing systems based on the company's patented ADESO® technology and its new patent-pending CURE Technology®, Polyglass also produces a full line of premium roof coatings and roof maintenance systems. Providing quality, innovation and service at its best, Polyglass adds value worldwide. For more information about the premium products and services offered by Polyglass, call 800.222.9782 or visit http://www.polyglass.com.
# # #