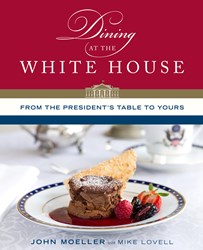 Washington, DC (PRWEB) September 18, 2013
Former White House Chef John Moeller, Chef to three First Families, and will be hosted by the White House Historical Association at a book-signing event to take place Friday, September 27, 2013 from 11am to 2pm at Decatur House (1610 H Street, NW, Washington, DC). George E. Hutchinson will also be signing his book, The History of Madison Place, Lafayette Square.
Dining at the White House—From the President's Table to Yours, released September 24, chronicles Chef Moeller's journey from small town Lancaster, Pennsylvania to his remarkable 13 years working as a White House chef to three Presidents: President George H.W. Bush, President William Jefferson Clinton and President George W. Bush, and their families.
The book details the challenges of preparing très soigné cuisine in America's most famous home. The book includes recipes Chef Moeller created for formal events and more intimate gatherings (with chef notes for the home cook) and a behind-the-scenes glimpse at the challenges of cooking in the White House. Throughout the narrative, Chef Moeller promotes his trademark use of fresh, healthy ingredients in one-of-a-kind dishes inspired by his classical French training with an American twist.
A native of Lancaster, Pa., Chef Moeller has more than 30 years of experience as a chef, working in New England, the Burgundy region of France, and at the White House serving three First Families and their guests. A graduate of Johnson & Wales University in Providence, RI for Culinary Arts, Chef Moeller also studied French at the University of Dijon and apprenticed as a chef in a number of fine dining restaurants in the Burgundy and Brittany regions of France. He became a White House chef in September of 1992, serving until 2005 – one of the longest tenured chefs across three Administrations. He currently is conducting a book tour and runs State of Affairs catering.
For more information, visit us on the web at http://www.DiningAtTheWhiteHouse.com. Like us on Facebook at http://www.facebook.com/DiningAtTheWH.
Author George E. Hutchinson will also be available to sign books during this same session. His book, The History of Madison Place, Lafayette Square, provides a unique glimpse into the social and diplomatic life of Washington, D.C., and into the colorful lives of the early residents of the homes on the historic Madison Place on Lafayette Square. Mr. Hutchinson is an Executive Trustee of the Federal Court Historical Society. A native Washingtonian, he served for 47 years in the judicial branch of the Federal Government, holding positions with the U.S. Supreme Court, the U.S. Court of Customs and Patent Appeals and the U.S. Court of Appeals for the Federal Circuit. From 1985 to 2003, he served as Executive Director of the Federal Circuit Bar Association. Since 1985 he has served as counsel to the firm of Finnegan, Henderson, Farabow, Garrett and Dunner.
About LifeReloaded
LifeReloaded Specialty Publishing is a national award-winning publisher of print and e-books that specializes in working collaboratively with authors across a range of genres to develop and publish their books. LifeReloaded creates jobs in America by only printing in the USA.
About The White House Historical Association
The White House Historical Association is a nonprofit organization, chartered on November 3, 1961, to enhance understanding, appreciation, and enjoyment of the historic White House. Income from the sale of the association's books and guides is returned to the publications program and is used as well to acquire historical furnishings and memorabilia for the White House. For a complete list of books and educational products, and for more information about the association, visit: http://www.whitehousehistory.org or follow us on twitter @whitehousehstry
###