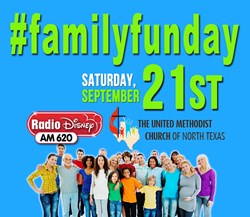 Plano, TX (PRWEB) September 17, 2013
Summer is over, but there is still time for one more big family event at the Family Fun Day Event on Sept. 21 at one of three United Methodist locations in the North Texas region.
The United Methodist Churches of North Texas understand the importance of family time. That's why they are coming together on Sept. 21 to host the Family Fun Day Event. This event is open to the public and provides an opportunity for families to get together and invite friends out for a day of memories and fun. This is the final chance for a big family-fun moment this summer – a chance to share with friends and family.
The event will feature entertainment provided by Disney Radio with T-shirts and prizes handed out to the first 200 people that show up at each location. The event is for people of all ages. Guests can invite their neighbors, friends and co-workers to join.
The Family Fun Day Event will be held at three different locations: Main Event Lewisville (2070 S. Stemmons Fwy), Main Event Plano (3941 Central Expressway) and Shenaniganz Rockwall (1290 East Interstate 30). The Lewisville event will be held from 11 a.m. to 1 p.m.; the Plano event will be held from 3-5 p.m. and the Rockwall event will be from 3-5 p.m.
Find out more about the United Methodists of North Texas by visiting http://northtexasumc.org. United Methodists are people with open hearts and open minds that will help newcomers fit in. Contact them to find out how to join or how to participate.
About the company:
The United Methodist Church is an 11-million strong global church that opens hearts, doors and minds through active engagement with our world. The United Methodists of North Texas are following four areas of ministry. Those areas are:

developing principled leaders
working to end killer diseases
creating new and exciting places of worship
reviving existing places of worship and working with the poor.