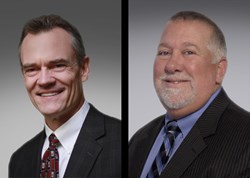 Windham, NH (PRWEB) September 23, 2013
John Olliver, Vice President of Sales, has been named Senior Vice President, Marketing and Business Development. Jeffrey Bucher, Director of Sales, has been promoted to Vice President of Sales / Americas.
"This realignment allows us to put greater attention on our customers and channel partners," said Larry Ye, President and Chief Executive Officer of LifeSafety Power, Inc. Adding, "We have seen a tremendous market response to our smart, power management products and these new positions will focus the company on serving our customers."
Mr. Olliver, a founding partner of LifeSafety Power, will oversee strategic marketing and direct the company's business expansion through partnerships, licensing, and acquisitions.
Mr. Bucher will assume responsibility for all of LifeSafety Power's sales and distribution operations and will be developing sales and marketing initiatives to increase revenue and strengthen the company's commitment to customer satisfaction.
"Jeff has been an outstanding performer since joining the company in 2011," said Mr. Ye. "He is extremely well respected in the industry and his customer focus and dedication to excellence has been instrumental in the company's rapid growth."
About LifeSafety Power
LifeSafety Power is an innovative technology company that designs and manufactures low voltage smart power management solutions for the life safety industry. FlexPower is the company's award winning product line featuring functionality unique to the industry; network connectivity, high capacity charging and a modular system that maximizes configuration flexibility. LifeSafety Power has a rapidly growing portfolio of Fortune 500 users making FlexPower the solution of choice for discerning Security professionals.