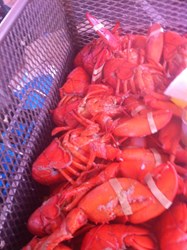 We took one look at the crowd, one look at the observer from Guinness and knew we had to act quick. - Mike Ungaro, VP , San Pedro Fish Market
San Pedro, CA (PRWEB) September 19, 2013
Faced with thousands of hungry diners waiting in line for world famous lobster dinners that can feature up to 3.5 lbs of Maine lobsters, California's largest fish market and restaurant knew it had to create an innovative solution.
"Every year, Ports O'Call Lobster Fest attracts more and more diners," said Mike Ungaro, Vice President of San Pedro Fish Market and Restaurant. "By our estimate, we were going to be serving over 1,000 dinners an hour for several hours on the second day, Saturday, September 14 alone. We needed a big serving tray, and well, we built one."
Constructed out of the same glass used in display tanks for live lobsters at the Fish Market, the custom-prepared tray was thought to be designed to hold about 900 prepared Maine lobsters for waiting diners. That was before the big day when an unprecedented crush of hungry lobster eaters showed up.
"We took one look at the crowd, one look at the observer from Guinness and knew we had to act quick," explained Ungaro. "We immediately upped the number of servings and placed over 1,100 lobsters on the tray which blew everyone away! It was another huge step in Lobster Fest history and a fun way to serve a lot of people."
Moments before setting this world record, an observer from Guinness verified that San Pedro Fish Market had indeed garnered their second Guinness world record by cooking 1,100 lobsters in a single pot.
"This effort was completely demand driven," continued Ungaro. "If we hadn't had so many people in line, we wouldn't have pushed ourselves beyond what we even figured was possible. Thank you to everyone that came out to Lobster Fest 2013!"
For more information on LobsterFest 2013, click http://ow.ly/oBFhS.
For more information on San Pedro Fish Market and Restaurant, go to their Facebook page at http://ow.ly/ob0xa.
About San Pedro Fish Market & Restaurant
Founded in 1957, San Pedro Fish Market & Restaurant has grown into a top rated destination on the LA waterfront whose seafood was described by Lonely Planet saying, "Seafood feasts don't get any more decadent than at this family-run harbor-view institution." Routinely serving more than 10,000 diners each week, San Pedro Fish Market is also one of the most recognized brands in the frozen food section of premium and mass market supermarkets across the Southwest and Hawaii selling in four microwavable versions of our world famous shrimp tray. Just as at the restaurant and market, all ingredients are the freshest available and meant to be prepared and enjoyed directly in the kitchen with your favorite ice cold beverage. For more information, go to our website at http://ow.ly/obvmS.