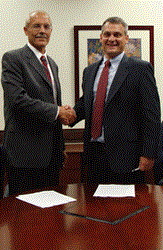 Exton, Pa (PRWEB) September 17, 2013
AGC Chemicals Americas Inc. and Zeon Chemicals today announced a distribution agreement for AGCCA's AFLAS® fluoroelastomers. The partnership provides enhanced growth opportunities for both companies while increasing product offerings to current and potential customers in North America.
The agreement will increase resource accessibility, commercially and technically, to manufacturers in a wide range of industries, including oil and gas, automotive, heavy-duty diesel, chemical processing, pharmaceutical, and food handling.
"This distribution agreement allows both AGCCA and Zeon to take advantage of the synergy between our two companies while enhancing customer satisfaction," said Bill Lillis, AGCCA vice president of business and technology. "Like AGC Chemicals, Zeon has a proud history manufacturing world-class products and can now add AFLAS to their portfolio, a product with unmatched performance in extreme conditions and harsh environments."
AFLAS fluoroelastomers are copolymers of tetrafluoroethylene and propylene, a combination that gives products unique properties over conventional FKM-type fluoroelastomers. This combination provides outstanding flexibility, toughness, and resistance to chemicals, heat and steam.
AFLAS products have been proven effective when formulated into items such as electrical submersible pump (ESP) bladders, packings, O-rings, engine seals and gaskets, sensor parts, and wire and cable coatings.
"Adding the AFLAS products to our distribution channel allows synergy between Zeon's existing product lines and AFLAS. It will benefit our customers by providing additional solutions, while being able to improve service and meet their needs," said John Stothard, Vice President & General Manager of Zeon Chemicals.
About AGC Chemicals Americas Inc.
AGC Chemicals Americas Inc. is a wholly owned subsidiary of the Asahi Glass family, a $15 billion multinational corporation and one of the world's largest manufacturers of glass, electronic displays and chemical products. The company was formed in 2004 through the merging of sister companies Asahi Glass Fluoropolymers USA and AGA Chemicals. Headquartered in Exton, Pa., AGC Chemicals Americas maintains manufacturing operations in nearby Thorndale, Pa., and warehouses located throughout North America. http://www.agcchem.com
About Zeon Chemicals
Zeon Chemicals L.P. is a wholly owned subsidiary of ZEON Corporation of Tokyo, Japan, a world leader in specialty elastomers, polymers and specialty chemicals. ZEON Corporation is one of the top producers of polymers in the world with plants in Asia, North America and Europe, and research and development laboratories in Kawasaki (Japan), Louisville, Ky., (USA) and Barry (UK).
Headquartered in Louisville, Ky., Zeon Chemicals is the leading producer of specialty elastomers in the USA. It produces Nipol® NBR, HyTemp® ACM, Hydrin® ECO, Zetpol® HNBR, and Chemisat® Latex, which are used in the manufacture of hoses, seals, gaskets, belts and other parts for automotive, industrial, oil field and printing markets. Customers are served from plants in Louisville, Ky., Hattiesburg, Miss., and Bayport, Texas. http://www.zeonchemicals.com