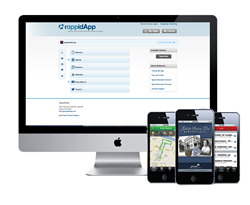 Our size and agility allow us to listen to our clients' needs, and directly evolve our new features and functions around what's most important to them.
Atlanta, GA (PRWEB) September 18, 2013
rappidApp, the leader in DIY mobile app development, is excited to announce same-day support for Apple's iOS7. This means that all existing apps, as well as any newly deployed apps will support Apple's robust set of features and functionality. On the hardware side, Apple has just released the sleek new iPhone 5S which boasts the new 64-bit chip and offers 3 colors: gold, silver, and space gray. Apple has also dropped the iPhone 5C which offers 5 new color options with an A6 chip at a much more affordable price. On the software side of iOS7, there's a new fingerprint identity sensor, an enhanced camera and an operating system built specifically for 64-bit architecture to support the new chip.
rappidApp has been undergoing dramatic growth and development over the last few months. They recently rolled out additional features into the mobile app platform including streaming video and audio. Also this week, they will launch a fully revamped website. Following the site update will be the robust functionality of the mobile profile manager. This functionality allows for custom agendas and content per registrant. "We are extremely proud of our development and marketing teams that support and allow for these fast paced progressions," stated Brandon Gelatka, Senior Sales Executive at rappidApp.
"It's an exciting time for rappidApp to see the fast-paced development cycles turn out tangible tools for our clients. Our size and agility allow us to listen to our clients' needs, and directly evolve our new features and functions around what's most important to them. In coming months, we look forward to introducing additional innovative feature sets to our mobile apps."
Visit with the team and learn more about rappidApp at upcoming shows including MobilityLive!, October 1st in Atlanta at the Woodruff Arts Center. Mobility LIVE! brings together key thought leaders and decision makers in the areas of mobile technology standards, strategies and innovations. Later in the month, visit booth #3156 in Las Vegas for IMEX America. IMEX America sets the pace for doing business on an international scale. Increasing in size and scope annually, this event features the largest Hosted Buyer Program in North America and attracts thousands of buyers and exhibitors from the U.S. and around the world. You can keep up to date with what events rappidApp will be attending by downloading the SU4 tour app below.
Download the app here:
https://itunes.apple.com/us/app/su4-tour/id694885733?mt=8
https://play.google.com/store/apps/details?id=com.signup4.app5364&hl=en
About rappidApp
A cutting-edge cloud-based mobile app platform, rappidApp simplifies the mobile app development process. This innovative platform allows for the creation of native apps, which are completely customizable through a web-based content management system that eliminates the need for advanced development expertise. With rappidApp, users can customize every detail of app design and content, guaranteeing app-users a consistent and well-branded mobile experience. Users can update content and view changes inside the app real-time. Easy-to-use, rappidApp is quick-to-market and loaded with the robust features of a true native app. rappidApp is headquartered in Atlanta, Georgia. For more information, visit http://www.getrappidapp.com and follow us @rappidApp.
About SignUp4
SignUp4 is the innovative meetings intelligence provider offering the highest quality strategic meetings management solutions with an affordable unlimited usage model. The goal of SignUp4′s meetings intelligence suite is to streamline workflows, simplify and drive registrations, efficiently manage travel logistics, improve communications, and provide visibility into meeting spend for leveraging contract negotiations and increasing ROI. With over a decade of experience, 3,500 users and over 80 of the Fortune 500, we understand the value of your time and events. Learn more at http://www.signup4.com and follow us @SignUp4.