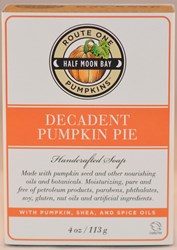 We are pleased to be part of the 43rd annual Pumpkin Festival. This family-friendly event highlights local foods and crafts and is a highlight of the year! - Sandra Klein, Route One Pumpkins
(PRWEB) September 19, 2013
From October 19-20, you can find handcrafted, traditional soap and skin care products from Route One Pumpkins at the 43rd annual Pumpkin Festival in Half Moon Bay. The World Pumpkin Capital of Half Moon Bay celebrates a bountiful fall harvest and autumn splendor with a special display of heavyweight champion pumpkins, smashing entertainment with three stages of stellar live music, the Great Pumpkin Parade, a bone-chilling Haunted House, harvest-inspired crafts, homestyle foods, pie-eating and costume contests, pumpkin carving for fun, pumpkin-infused ales and margaritas, and much more! Festival admission is free.
The fields are already filling with pumpkins of all sizes and varieties, from Jack o lanterns to heirlooms and culinary pumpkins in anticipation of pumpkin season. And all the coffee shops have released their pumpkin lattes in anticipation of Fall. Here in Half Moon Bay, Fall weather is typically some of the nicest, with clear, warm skies, yet another reason to come out and enjoy what often feels like the start of the holiday season. Pumpkins and pumpkin pies remind us of childhood, of family and friends and great food. It's a good thing they are so healthy, too!
It all starts on Monday, October 14 at 7am with the pumpkin weigh-off. In the days before, impressively huge pumpkins will be brought into Half Moon Bay on trailers. though one must wonder, why does our culture celebrate unnaturally huge pumpkins?
Then, Saturday Oct 19, a pancake breakfast to prepare for a day of fun, with the festival opening at 9am. The parade is at noon and, if you are claustrophobic, better go later or Sunday and miss the parade as it can be pretty crowded. A full schedule of events can be found here.
One favorite local band, Chinese Melodrama, will be performing Sunday at 9:45 and 1:30pm on In Chinese Melodrama, acoustic sensibilities from two divers musical backgrounds converge to pay homage to quintessential American rock music. Equally at home with original compositions and unique interpretations of rock classics, this guitar-and-violin duo delivers a full-bodied sound and thought-provoking lyrics that appeal to audiences of all ages.
Route One Pumpkins harvests local pumpkin seed oil from locally grown, organic sugar pie pumpkins and uses these healthy oils with other pure and natural oils and botanicals to make a variety of handcrafted, pure and natural soap and skin care products. Seasonal favorites include our Decadent Pumpkin Pie Soap, Pumpkin Hand and Body Lotion and Cinnamon Orange Soap.