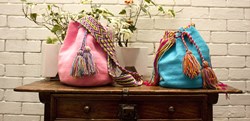 Kupuma Timeless Fashion
International (PRWEB) September 19, 2013
The new Kupuma line of bags enters the market. Kupuma has released a new line of products that are now available on their ecommerce platform to their customers in the U.S and Canada.
Kupuma is a company dedicated to bringing quality timeless products to their customers. Recently, they have entered the market in the United States and Canada with their new line of products. Their vision is to join forces with new upcoming designers around the world, and showcase them on an online, worldwide shopwindow; http://www.kupuma.com
Kupuma uses a business model whereby deals are concluded with international designers to bring their products to market. These products include leather bags, leather finished laptop bags, handbags, clutches and little known Mochila bags.
Every product is promised to be Unique & Lovely. The sigularity of each handmade bag, and the quality of the materials and craft will definately make this one of our favourite online shops and an example for those who still doubt they can make a living out of thier own designs.
Their strategic partnerships with high caliber designers has brought them into the spectrum, such as the Italian company KFS's Manfredi Conforzi, who go from winning awards on boat designing to selling thousands of logo printed T-shirts online. Other designers have come from international backgrounds including Colombia, South Africa and Malawi (Central Africa).
Additionally to the designer model, Kupuma also prides itself on excellence of product sourcing. There are often products that are fashionable, beautiful and durable but have not had the opportunity to be brought to market. Kupuma helps these type of designers not only to get their goods to market but also to improve their product and help prepare it for delivery to clients. Kupuma manages the whole supply chain from production to delivery to the client and can therefore help to deliver value to the designers by managing the production, logistics, marketing/sales and finally the delivery to the client.
A good example of this in action is Kupuma s Mochila bag line. Mochilas are traditional bags made of pure 100% wool by the Wayu tribe in Colombia. They are colorful, beautiful and durable and each one has a touch of Uniqueness. Every one of these bags is made by women fo the tribe, and are more than unlikely to be found on your next door shop. An original mochila can only come from the coast of Colombia, but will be delivered to your house by Kupuma. Sometimes with designer touches that make it even more exclusive.
Kupuma will continue to bring new products and add to their existing line with the highest quality standards, hoping more designer will join them in this admirable cause: Bring upcoming designers together in a worlwide online platform.
Visit http://www.kupuma.com to see more of these beautiful unique & lovely products that make great gifts and long-lasting companions for the owners.