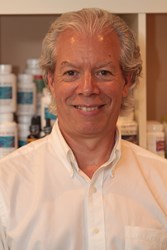 We are honored to have received it for a second year.
Ardmore, PA. (PRWEB) September 18, 2013
Earlier this year Dr. Martin Orimenko and his family-owned-and-operated Holistic Health Center won the "Best of the Main Line Award" in the alternative/natural healthcare category. Main Line Media News is a multimedia company serving the Main Line from Bala Cynwyd to Malvern, PA. The winner for each category is determined by community- based nominations and votes. This is the second year Live Well Holistic Health Center has won this award.
"We first won the Best of the Main Line Award for the same category back in 2011, only one year after we opened the center," says Dr. Orimenko, Co-Owner and Director of Live Well Holistic Health Center. "We are honored to have received it for a second year."
Dr. Orimenko and Live Well Holistic Health Center also received an invitation to be featured on a 30-minute segment of "Discover Main Street PA", a local television show which recently featured an episode filmed in downtown Ardmore, PA. The episode will air September 15th at 7:00pm Eastern Standard Time on PCN.
"We are actually one of three businesses and two restaurants selected to be interviewed and featured for the TV show," says Traci Orimenko, Co-Owner and Operations Manager at Live Well Holistic Health Center. "We're so excited to get exposure for our center and really get people interested in holistic living."
In addition, Dr. Orimenko will be presenting a workshop on Cleansing and Detoxification at this year's Namas Day event, a yoga and meditation workshop at the Wayne Art Center on October 6, 2013. A play on words, "Namas Day" references the Indian salutation which literally translates to "I bow to you," and is an Indian salutation exchanged between yoga teachers and students, said while bowing with palms pressed together in the middle of the forehead.
"It's been a big year for us, and the best is yet to come," says Dr. Orimenko.
Live Well Holistic Health Center is located in Admore, PA, and is dedicated to helping people achieve their health goals using an all natural approach to wellness. Dr. Martin Orimenko has been in practice 23 years as a Chiropractor, Naturopath and Nutritionist, and he combines these modalities and more to treat a wide range of health conditions, including back and neck pain, plantar fasciitus, sinus and allergy problems, headaches, parasites, anxiety and depression, digestive problems like colitis, IBS & Crohns, blood sugar balancing, cholesterol problems, food sensitivities and more.
###
For more information about this topic, or to schedule an interview with Dr. Martin Orimenko, please call Traci Orimenko at Live Well at (610) 896-1554 or email at traci(at)livewellholistichealth(dot)com.