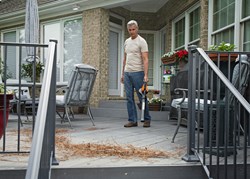 The flow of dirt through common entry points can be reduced by creating a clean zone around the perimeter of the house.
Charlotte, N.C. (PRWEB) September 18, 2013
As much as 85 percent of the dirt in today's homes is tracked, blown or carried in through common entry points, including the front and rear doors, garage, patio, deck and workshop. This continuous flow of dirt can be reduced by creating a clean zone around the perimeter of the house, preventing this dirt from getting inside.
By using the WORX AIR blower/sweeper attachments, the homeowner can remove dust, dirt and debris from the front entryway in as little as two minutes. In three minutes, the patio or deck can be cleared, and in less than six minutes, dirt can be gone from the garage.
AIR attachments are all included with the WORX 20V and 32V MAXLithium Blower/Sweeper models. They can be used in various configurations for a number of cleaning, clearing, inflating and deflating applications.
For example, the AIR Wand is about the width of a dust pan and functions like an air broom to clear dust and debris. It also is handy for drying cars, motorcycles, windshields, patio sliding glass doors, window frames and other areas.
The AIR Dust Brush is a 90° extension wand with air brush that's great for clearing out cobwebs, cleaning sliding door and window frame tracks and cleaning recessed and hard-to- reach areas in RVs, vans, boat hulls and more.
Designed for quick cleanups, the AIR Compact Tube delivers a concentrated blast to clear out dust and debris from campers, cabin tents, picnic table tops, screened-in porches, patio steps, garage floors and more. The stubby air cannon also can be used with other AIR attachments.
The AIR Extension Hose with AIR Detail Nozzle attached is intended for sensitive dust clearing. Its compressed needle-nose stream of air blows dust from inside computer housings, laptop motherboards or engine parts prior to installation. It also clears sawdust from wood during sanding and removes dust between coats of stain, polyurethane and other applications. Switch to the Inflator Nozzle, and it also can be used for inflating beach rafts, inner tubes, air mattresses and other large inflatables.
The AIR Deflation Cover and Nozzle deflates inflatables for storage.
The WORX AIR Attachments are bundled with the WORX 20V MAXLithium 2.0 Blower/Sweeper AIR Kit (W545.1, $99.99) and WORX 32V MAXLithium 2.0 Blower/Sweeper AIR Kit (W575.1, $149.99). The WORX AIR Attachment Kit also is available separately (WA4091, $29.99).
WORX AIR is available at http://www.worxair.com.
Like and follow WORX at https://www.facebook.com/worxus and https://twitter.com/WORXTools .