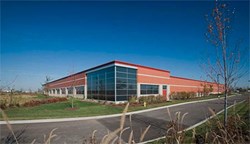 The market for Tier III colocation in Chicago is one of the strongest in the nation, and we believe our product offering at the West Chicago facility addresses the many significant needs of customers.
Chicago, IL (PRWEB) September 19, 2013
New Continuum Holdings Corporation ("NCHC"), a company formed by Eli D. Scher, and Gary Chaffin and Tom Chaffin of Continuum Data Centers ("CDC"), today announced it has entered into a long-term lease with purchase options on a TIER III+ data center asset in West Chicago, IL. In the new location, CDC, a leading Chicago provider of colocation and data center services, will provide enterprise customers with world class data centers that go beyond traditional colocation solutions. NCHC will operate under the Continuum brand.
Located at 603 Discovery Drive, the facility was originally built as a Tier III data center for occupancy in 2007, though the build was never completed. NCHC plans to complete the build-out to Tier III, fully redundant N+1 specifications, and begin installing customers in mid-summer 2014.
"Continuum plans to create the ultimate in risk aversion data centers in Chicago," said Tom Chaffin, COO. "We will be leveraging our unique expertise in the Chicago market to deliver an 80,000 sq. ft. Tier III data center in the western suburbs. The new, highly secure, high density Tier III Chicago data center sits on approximately 20 acres with multiple power grids servicing the property (up to a combined 48 megawatts of power with future access to a third grid), atop massive amounts of fiber access, and within close proximity to the CME Aurora Data Center." Mr. Chaffin continued, "The market for Tier III colocation in Chicago is one of the strongest in the nation, and we believe our product offering at the West Chicago facility addresses the many significant needs of customers. Moreover, the location of the facility relative to the new CME data center three miles away in Aurora provides an interesting alternative to financial firms looking to efficiently house their less latency sensitive applications." Mr. Scher, Chairman and CEO of NCHC said, "I am thrilled to be working with Gary and Tom on this transaction. I am confident that together we can build on the strong foundation that CDC has established and deliver value and quality service to our customers for years to come."
Unlike many of the data centers built in industrial areas or bounded by highways in the downtown Chicago area, the Continuum West Chicago data center location and infrastructure were planned and designed for complete disaster mitigation. The asset will have separate above ground fuel tanks and an on-premises pumping station for its standby generators providing 72 hours of continuous run time at full critical load. There are four 12,470 volt - 2.5 megawatt generators installed on the site, and the entire facility is cooled by a water based evaporation/recirculation plant. The cooling systems boast a total of 140,000 gallons from a four tank in-ground water system with four 700 ton chilling towers, and four 770 ton parallel turbines. The in-ground tanks use the earth's natural cooling to reduce energy costs, and 4 free cooling heat exchangers further enhance efficiency. The facility has 18-foot clear height ceilings, steel doors, high density cabinet footprint, Kevlar and steel mesh lined concrete walls, I-Beam structural enhanced live load roof, and a fifteen zone pre-action VESDA fire suppression system. Additionally, each corner of the building has 4 x 4-inch fiber casings and there are two diverse fiber rooms and points of entry at each end of the building. Extensive security, including gated and bio-metric access, Level–III bullet resistant mantraps, and REX infrared interlocking doors, is prevalent throughout, with full featured NOC/SOC monitoring and control. Continuum plans to build six 900 sq. ft. private data center suites along with custom cage and full cabinet retail colocation space.
Continuum expects the facility to be completed mid-2014 with pre-sales and tours beginning this month.
About Continuum
Continuum Data Centers ("CDC") is a multi-tenant data center operator in the western Chicago suburbs. The team at CDC has been at the forefront of the Chicago suburban colocation market for over 10 years, and has a track record of developing world class assets. The Company is currently re-developing to operate an 80,000 square foot, purpose-built, highly efficient Tier III+ facility in West Chicago, IL, and operates a Tier II facility in Lombard, IL. CDC develops or seeks to own assets which are differentiated by their geographic location or other inherent traits. In doing so, the Company aims to consistently provide its customers with superior risk aversion profiles. CDC's team has the experience and expertise to manage the needs of a diverse customer base, including trading and financial firms requiring high-density, efficient computation, as well as Enterprise and Fortune 1000 companies and retail customers requiring primary colocation.
To learn more about Continuum, call 877-432-2656 or please visit http://www.continuumdatacenters.com