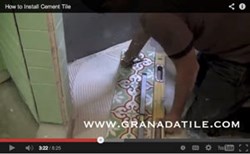 "Designer Guy Vidal takes you into a bathroom tile installation and walks you through the steps of tile installation."
Los Angeles, CA (PRWEB) September 20, 2013
Granada Cement and Concrete Tile has produced a new video with step-by-step instructions on cement tile installation. In the clip, Los Angeles–based designer Guy Vidal, of Design Vidal, taps into his long experience using Granada Tile's concrete tiles to give extensive instructions on cement tile installation.
Using a bathroom tile installation featuring Granada Tile's stunning Sofia tile design from the company's flagship Echo Collection, Vidal gives a clear, visual guide on the ins and outs of concrete tile installation, from tool selection and surface preparation to sealing and care of the newly installed concrete tile surface.
It was a natural fit to team with Design Vidal for a concrete tile installation video, given Vidal and his firm's long association with Granada Tile. Vidal and his wife and partner, Karen, have chosen Granada Tile's cement tiles for many of their kitchen and bathroom tile installations because of the unmatched variety and quality of concrete tiles available from Granada Tile.
Beyond providing a concise visual breakdown of a cement tile installation, the video also features Granada Tile's co-founder Melanie Stephens, who gives a summary of the history of cement tile as well as a history of the company.
About Granada Tile
Based in Los Angeles, Granada Tile creates sensational, handmade eco-friendly cement and concrete tiles. Working closely with architects and designers, Granada Tile strives to capture the customer's creative vision through cement tile.
Top designers and architects (including Tihany Design, Zeff Design, BAMO, Shubin + Donaldson, and Bestor Architecture) have selected Granada Tile for their resorts, spas, restaurants, and offices. Homeowners and interior designers have chosen Granada Tile for their kitchens, bathrooms, living rooms, pools, patios on the floors and walls.
While producing cement tiles at the family's production facility in Nicaragua, Granada Tile lives up to its commitment to be an environmentally friendly business by managing resources responsibly and not contributing to landfills or using toxins.