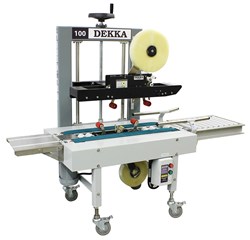 Richmond, British Columbia, Canada (PRWEB) September 17, 2013
DEKKA, powered by Pro Mach, announces a new entry-level case sealing system that makes upgrading from hand packing to semi-automation an easy choice, even for operations with limited floor space and a tight budget. The new DEKKA 100 Semi Automatic Case Sealer delivers extra production efficiency and ease of use in a space saving package. The entire system only requires 44 inches x 25 inches of floor space and provides a simple user interface, easy size adjustments, and reliable tape application.
The DEKKA 100 is ideal for manufacturers operating low-speed manual lines that, until now, have found automatic systems to be cost prohibitive. One person can easily operate the DEKKA 100 by following handy on-machine instructions that outline case size changes and setup. The machine features a durable, high performance DEKKA tape head for quick-change (30 seconds or less) tape loading, exclusive "No Break" tape advance, and unbeatable tape sealing reliability and efficiency.
"The development of the DEKKA 100 is a milestone for us," said Sander Smith, DEKKA Product Manager. "Fans of the renowned DEKKA tape head have been asking for a case sealer based on its reliable tape head design. We expect this to be the first in a series of compact machines for businesses with limited floor space and a need to improve productivity on their overburdened hand pack lines. This is just another step in our goal of being the leader in all areas of tape sealing."
Since 1999, DEKKA has sold and installed thousands of its premium tape heads in a wide range of case sealers. DEKKA's robust, easy to maintain tape head delivers long lasting reliable performance and real-world practicality to many manufacturing and packaging operations worldwide.
The DEKKA 100 will be exhibited by Wexxar, powered by Pro Mach, at Pack Expo Las Vegas, September 23-25, in Booth C-2014.
About DEKKA
DEKKA Industries, powered by Pro Mach, is a leading manufacturer of high quality tape heads and tape sealing solutions. DEKKA also provides training, installation, and tape head rebuilds through its nationwide service team. For more information about DEKKA, visit their website at http://www.DekkaIndustries.com or contact them at (604) 278-7881.
About Pro Mach
Pro Mach is a leading provider of integrated packaging products and solutions for food, beverage, household goods, pharmaceutical, and other diverse consumer and industrial companies. Through multiple business units and related brands, Pro Mach provides equipment, installation, training, parts, and service in primary and secondary packaging, flexible packaging, end-of-line packaging, material handling, and identification and tracking.
Pro Mach has a diverse customer base, from Fortune 500 companies to smaller, privately-held businesses worldwide, which depend on reliable, flexible, technologically advanced packaging equipment and integrated solution sets. Pro Mach is headquartered near Cincinnati, Ohio with manufacturing facilities and offices throughout the United States and Canada. For more information about Pro Mach, visit our website at http://www.ProMachInc.com.