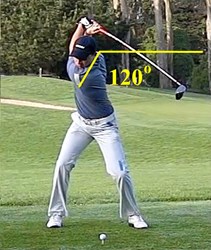 A golfer needs a minimum 120-degree Shoulder Turn Angle for an effortless 300+ yard drive.
(PRWEB) September 19, 2013
Somax Performance Institute (web: somaxsports.com), the world leader in analyzing, measuring and improving sports performance, is pleased to announce that their sports analysis videos have surpassed 2 million views. The Institute, which works with high-profile individuals from the sports and business communities, improves performance far beyond conventional coaching and training with its unique program of motion analysis and Microfiber Reduction.
Many viewers have praised the Somax videos for helping them improve their performance in golf, tennis, track and baseball.
"We enjoy helping recreational and competitive athletes learn how to videotape, analyze, measure and improve their own sports mechanics instead of trying to copy well-known athletes, who often succeed in spite of their inefficient movement patterns" says Bob Prichard, Director of Somax Performance Institute. "We ask athletes: why try to imitate pro athletes when you can develop more efficient movements on your own with our analysis system and your home video camera?"
These enjoyable and instructive sports analysis videos are available for viewing on the Somax website at http://www.somaxsports.com/video.php
The Somax RSSSA Analysis System details
RSSSA stands for Range, Sequence, Separation, Speed and Alignment
By measuring and improving Range, or how many degrees the parts of the body move, Somax has been able to predict injuries in athletes as much as a year in advance, as well as improve running pace by more than a minute per mile in just a few weeks.
By measuring Sequence, or the order in which athletes move the parts of their body, Somax has been able help athletes increase the length of their drives off the tee and home plate by 20%.
By measuring Separation, or the amount of time between movements, Somax can identify areas where athletes can improve their performance while at the same time reducing effort.
By measuring and improving Speed, or the speed of hip rotation, Somax has almost doubled racquet head speed in tennis players and added 25 mph to golf swing speed in less than four weeks.
By measuring Alignment, Somax has improved accuracy in golfer's drives from 55% to 92% and reduced chronic injuries in runners.
The Somax RSSSA system of analysis has been proven to be not only simpler than computerized analysis, but more successful in identifying inefficiencies that can be improved to boost performance.
About Somax Performance Institute
Since 1970, the Somax Performance Institute has helped athletes of all ages improve their performance by improving their efficiency--rather than their strength and endurance. Their 17 Olympic athletes have won 44 Gold Medals and have set 11 World Records. Their pro golfers have won the US Open as a rookie, increased their putting from #113 to #1, quadrupled their tour income and increased their longest drive from 295 to 400. Amateur golfers have increased their distance, lowered their handicap and eliminated back pain.
Runners have cut a minute per mile off their running pace and swimmers have cut their stroke count in half while improving their swim times.
Tennis players have added 20 mph to their service speed and increased their forehand speed from 55 to 97 mph.
Baseball players have increased their long ball from 400 to 480, their bases stolen from 14/15 to 32/33 and their income from $500K to $1.75 million.
Contact:
Bob Prichard
Somax Performance Institute
Web http://www.somaxsports.com
Email. bprichard(at)somaxsports(dot)com
Tel. +1-415-435-9880