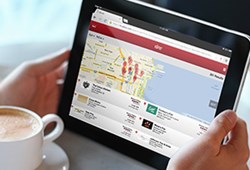 This is the latest innovation in our continuing effort to enable our loyal dining program members to easily find information.
Chicago, IL (PRWEB) September 18, 2013
Rewards Network, a leading dining rewards program provider, is happy to announce the release of its new tablet-optimized websites. The initial release includes iDine® and the dining rewards programs for 10 other loyalty partners, including United MileagePlus®, American Airlines AAdvantage®, Delta SkyMiles®, My Best Buy™, Hilton HHonors™, US Airways® Dividend Miles, IHG® Rewards Club, Alaska Airlines Mileage Plan™, Southwest Airlines Rapid Rewards® and FREE SPIRIT™, with other partners to follow soon.
The new tablet sites are optimized for 92 percent of all tablets in the marketplace, including the iPad, iPad Mini, Kindle Fire, Android Galaxy and Microsoft Surface among many others.
This move is yet another example of the Rewards Network commitment to innovation in the digital space. As recently as November 2012, studies have shown that only 7 percent of retailer sites were tablet optimized, and recent quarterly sales results show that tablet sales have surpassed both desktop and notebook sales. An NPD Group study in February of this year found that more than one third of all US consumers had already abandoned desktops and notebooks in favor of smartphones and tablets for surfing the web, using social media and playing games. Nearly half of all of Rewards Network website visits are from mobile phones and tablet devices each month.
All Rewards Network members will be directed through emails, social media and web browsing to enjoy all the features of desktop websites in a format optimized for their specific device. Prospective members will also be directed to this enrollment-friendly experience.
The tablet-optimized websites complement the eleven mobile phone websites run by Rewards Network and the iDine app for iPhone and Android in the marketplace, with features including:

Advanced search, including the ability to search for a restaurant based on cuisine or type
Optimized restaurant content
Registration to earn bonus rewards for select dining experiences
Google Map integration and driving directions
Social sharing enables users to share to Facebook, tweet, text, and email to friends in their network
Member account management and enrollment
"This is the latest innovation in our continuing effort to enable our loyal dining program members to easily find information about restaurants where they can dine to earn their favorite rewards, no matter where they are or what device they are using," said Kara Walsh, Sr. Vice President, Marketing, at Rewards Network.
About Rewards Network
Rewards Network is a results-driven, measurable marketing program that helps restaurants fill more tables and build a loyal customer base. Rewards Network provides access to over 3.2 million passionate diners, driving new and repeat visits by offering rewards such as airline miles, hotel points, charitable contributions and more. The company promotes restaurants to diners via web, email, social media, and mobile marketing, and also provides valuable customer feedback and performance tracking to help restaurants improve service and increase profits. Learn more about how Rewards Network can help give you a competitive edge.
Press Contact:
Kara Walsh, SVP Marketing
Rewards Network
312-291-5846