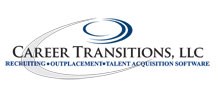 The site shows our people, our process, and our technology. - Brian Hulecki, Director
Mishawaka, IN (PRWEB) September 18, 2013
Career Transitions, LLC, a subsidiary of Electronic Commerce, Inc. (ECI), announces a more user-friendly website showcasing services and features for both employers and job seekers. The new website is more robust and better highlights service offerings including staffing, contracting, and career management.
Aside from high quality content and simple navigation, the new site offers a richer user experience for finding and interpreting data, which is helpful to current and future customers.
"As the digital age continues to evolve, Career Transitions new website better communicates our strengths in supporting businesses' employee needs," said Brian Hulecki, director at Career Transitions. "The site shows our people, our process, and our technology. Technology has become a factor regarding those employees who we acquire, retain, develop, and outplace in businesses. Our staff at Career Transitions understands this factor, and our new website extends our client partnerships with real-time company communications, shows why we are the book-ends of the employee experience, and demonstrates how our business flexes with your business."
Some of the most notable enhancements to the Career Transitions new website mean:

"Career Transitions' 30 years in business is a direct result of our customer's success," Hulecki said. "Our new website allows current and potential clients an opportunity to look deeper into our service offerings and discover how we can assist with their employee business condition. Career Transitions supports local, regional, and national clients and offers a relationship beyond a transaction."
About Career Transitions
Founded in 1987, Career Transitions is committed to helping organizations hire, develop, retain and transition employees, allowing you to focus on your core business objectives. Career Transitions services provide advanced strategies focused on the organization's core values of being agile, delivering performance, and deepening relationships with customers. Whether you are experiencing explosive growth or constricted market conditions, our suite of services are designed to meet your customized needs. Career Transitions offers Professional Search, Contract Staffing, and Outplacement Services and has the experience to become an extension of your human resource team. Our replacement guarantee for Professional Search, teamed up with our Virtual and In-House Outplacement Program, make us your first choice for recruitment excellence. Career Transitions:
Provides options with each service offering that fit the current needs of the customer.
Embraces technical advances but knows we serve people, organizations, and institutions.
Dedicated staff of professionals is committed to service excellence.
To learn more, visit http://www.careertransitionsllc.com.
For additional information, please contact:
Leanne Phillips
Communications Manager
Electronic Commerce, Inc.
2810 Dexter Drive
Elkhart, IN 46514
574-970-4400 x 154
lphillips(at)ecipay(dot)com