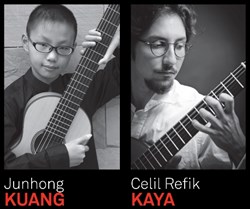 We're looking forward to Junhong and Celil inspiring our biggest audience yet, which also helps us work toward fulfilling the foundation's primary goal of music education and inspiration. - Suzanne D'Addario, Foundation Director
New York, New York (PRWEB) September 19, 2013
The 2013-14 season of the D'Addario Performance Series at Carnegie Hall is poised to be one of its best. The series will continue its tradition of delivering top classical guitar talent from all over the world to the hallowed New York City performance space. But this season, instead of solely acquiring the genre's best performers, the D'Addario Foundation has also succeeded in finding some of its youngest.
This season's opening concert, slated for Thursday, October 17, will feature two young performers whose power, passion and abilities would be astounding at any age. But with just 34 years between them, Junhong Kuang and Celil Refik Kaya are certainly wunderkinds of another kind. October's concert will be Mr. Kaya's Carnegie Hall debut, during which, he will world-premiere a new piece written for him by famed Argentinian classical guitarist and composer, Jorge Morel. The concert will be Junhong Kuang's New York City debut.
12-year-old, China-born prodigy, Junhong Kuang, has achieved tremendous notoriety in a very short amount of time. The tone and boldness of his performances have caught the attention of many genre legends. Thomas Kirchhoff, a lauded guitarist who has also established one of the biggest and most prestigious guitar festivals in the world (at which Kuang won top awards), called the young guitarist's tone "as perfect as [acclaimed musician] David Russell's." David Russell also praised Kuang, calling him a "prodigy" and "a real pleasure to listen to." The great flamenco and classical guitarist Pepe Romero is quoted as having said to Kuang, "You will bring this world the love and the beauty with your guitar," simultaneously offering words of encouragement while prophesying the performer's future.
While ten years Mr. Kuang's senior, guitarist Celil Refik Kaya is still an appropriate age to be called a "young genius of the guitar," as he was by guitarist and composer Jaime Zenamon. Born in Istanbul, Turkey, in 1991, Mr. Kaya showed an almost immediate passion for music. A busy competitor, he has already received top prizes from many of the world's most illustrious international guitar competitions.
When not competing, Mr. Kaya embarks on a busy schedule of television and radio appearances as well as live performances. He has performed as the featured soloist with many symphony orchestras around the world. Mr. Kaya also attends master classes with world-renowned guitarists, studies privately with GRAMMY®-award-winning guitarist Sharon Isbin, and is a scholarship student in the graduate program at New York City's Mannes College at the New School for Music.
"We are extremely proud to host such amazing young artists on the opening night of the new Performance Series season," commented Suzanne D'Addario Brouder, Director of the D'Addario Foundation. "After last season's record-breaking ticket sales, we're looking forward to Junhong and Celil inspiring our biggest audience yet, which also helps us work toward fulfilling the foundation's primary goal of music education and inspiration."
Since 1981, the D'Addario Foundation has been committed to inspiring and assisting the growth and appreciation of music throughout the world. The primary mission of the foundation is to support community-based music-education programs in underserved areas. School visits are arranged for many of the musicians who perform in the foundation's D'Addario Performance Series.
D'Addario Performance Series events are held at Weill Hall, the adorned and intimate 268-seat theater nestled inside New York City's famous Carnegie Hall. From Billie Holiday to Bob Dylan to the Buena Vista Social Club, the celebrated Manhattan landmark is no stranger to bold and dynamic performers of all musical genres who pushed the limits and defied expectation.
An after party will be hosted by the D'Addario Foundation in Carnegie Hall's Jacobs Room directly following the event. During the party, audience members will have the opportunity to meet the performers and enjoy the open bar. All ticket holders are invited to the after party.
Ticket prices begin at $20 and can be purchased through Carnegie Hall's website at http://bit.ly/1aUprKz.
For more information about the event, the D'Addario Foundation or the D'Addario Performance Series, please email foundation(at)daddario(dot)com or visit http://www.daddariofoundation.org.