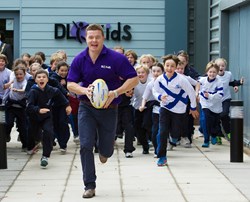 (PRWEB UK) 18 September 2013
Irish rugby great Brian O' Driscoll today, Wednesday, September 18, officially unveiled David Lloyd Leisure's latest investment to keep children physically active and inspired young fans by hosting a masterclass in the new £750,000 state-of-the-art DL Kids facility for Dublin.
Brian, the former Lions captain and Ireland's most prolific try scorer, cut a ribbon to mark the opening of the unique installation at David Lloyd Dublin Riverview, Clonskeagh, which forms part of a £1.35m investment this year by Europe's premier health, sport and leisure group to expand its successful DL Kids model.
The rugby star fielded questions from Year 6 pupils at St Andrew's College Junior School in Blackrock, Dublin, before hosting a masterclass in the sports hall at the new facility, which also features three multi-purpose activity rooms, a play frame, soft play zone, outdoor area, DL Kids cafebar and lounge.
Brian said: "DL Kids at David Lloyd Dublin Riverview is a superb place where youngsters can play and get active, which is vital if we are to encourage future generations to be interested in sport and to be healthy and fit. I really enjoyed meeting schoolchildren from the local community and had a great time showing them what a fantastic team sport rugby is."
Lord Mayor of Dublin City, Oisín Quinn, who attended the official opening, commented: "I am delighted that a market leader like David Lloyd Leisure has made this very significant investment in a facility for the city's youngsters. Against a backdrop of growing concern about childhood obesity and children not doing enough exercise, it is very important that we provide them with safe and stimulating environments to encourage them to keep fit and active, and this DL Kids facility at David Lloyd Riverview does just that."
St Andrew's College Junior School principal Dr Jacquie Campbell said: "The children have been so excited about meeting Brian O' Driscoll, a fantastic role model for them, and the children have also been looking forward to seeing the new facilities at DL Kids. As a school we really emphasise the value of healthy, active lifestyles for our students. They will want all PE lessons to be like the one they have had with Brian today!"
Sean Singleton, general manager at David Lloyd Dublin Riverview, added: "It has been an honour to have Brian O' Driscoll, a true sporting hero, open our new DL Kids facility. This investment demonstrates David Lloyd Leisure's ongoing commitment to developing facilities and services for the whole family under one roof. There is no other facility like this one in Dublin and it is our aim to make every child's visit to DL Kids a memorable experience."
DL Kids at David Lloyd Dublin Riverview, open to members and non-members, provides children aged 0-11 years with an extensive range of programmes specifically designed to complement the way they learn in pre-school and school time. Activities include arts and crafts, creative play, hundreds of types of games and sports coaching, as well as birthday parties, after-school clubs and DL Kids Holiday Active programmes during the school holidays.
The first purpose-built DL Kids facility opened at David Lloyd Raynes Park in 2010, and, following its success, the concept was rolled out to Leeds, Finchley, Hampton, Beckenham and Barcelona – the first outside the UK.
David Lloyd Leisure, which receives approximately 3.5 million child visits annually, has invested more than £8m on DL Kids in the UK and Europe over the last four years.
In addition to DL Kids, the group offers children structured sports coaching as part of its All Stars programmes, featuring tennis, swimming and gymnastics.
For further information on DL Kids at Dublin Riverview, go to http://www.davidlloyd.ie.
Note to editors: For further information about this press release, contact the David Lloyd Leisure press office on 01707 289833/4 or email press(at)davidlloyd(dot)co(dot)uk.
About David Lloyd Leisure Group
The David Lloyd Leisure Group operates 81 clubs in the UK and a further 10 clubs across Europe. It has over 440,000 members and employs 6,000 people. This includes an expert health and fitness team of over 1,800, while it contracts the services of more than 400 tennis professionals. Across all clubs, David Lloyd Leisure has over 150 swimming pools (of which half are indoor) and offers over 10,000 exercise classes per week. Every week 20,000 children learn to swim at David Lloyd Leisure and 12,500 learn to play tennis. Its racquets facilities are unparalleled with 700 racquets as well as 180 badminton courts and 140 squash courts. Additional facilities include health and beauty spas, club lounges with free Internet access, crèches, nurseries and specialist sports shops.