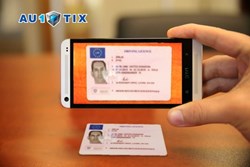 "We believe in the AU10TIX technology since we have it working for us every day," says Alan Heaffey, Operations Director of RCI Financial Services Ltd.
Nicosia, Cyprus (PRWEB) September 19, 2013
RCI Financial Services Ltd, provider of retail and wholesale funding solutions to UK Nissan, Renault, Dacia and INFINITI Dealers have been using AU10TIX FDI for the automation of customer ID authentication and paperless onboarding in dealerships for more than a year. Backed by smooth implementation, successful performance and strong dealer support, RCI Financial Services has decided to further expand deployment of the solution to additional dealers in its network.
The latest contract expands RCI's solution's range, adding the AU10TIX "FDI Lite" variant to the already deployed full-scope FDI solution. While FDI provides ID fraud detection and content extraction using 3-illumination (VIS, UV, IR) ID scanners, "FDI Lite" does it with standard office scanners that provide 1-illumination - visible light (VIS) scans. FDI Lite can therefore carry out all relevant forgery checks available with visible light (VIS) imaging. Thanks to the AU10TIX multi-channel platform design, RCI can have one system handling the desired combination of standard FDI and FDI Lite stations deployed across its dealer network.
AU10TIX FDI & FDI Lite (Front-end Document Identification) are much more than a fraud detection system. By automating both ID authentication and content extraction FDI & DFI Lite enable RCI to speed-up customer processing, minimize data entry error, and save the costs associated with paper-based record management. These translate to ability to improve customer acquisition rates, increase volume handling capacity, improve decision effectiveness, higher operating efficiency, and enabling of more effective fraud protection and KYC compliance.
"A returning client is one of the biggest compliments," says Ron Atzmon, Managing Director of AU10TIX. "That means a lot to us. It is a vote of confidence in the contribution of the AU10TIX technology to fraud prevention and to competitiveness. The good guys at RCI UK want to stay ahead of the game both on the 'inside', providing their dealer with the best tools there are and on the 'outside', providing their customers with the best possible service experience and protection. That exactly is what our scientists had in mind in putting together the standard-setting FDI technology. We congratulate RCI and welcome the RCI operations in additional markets who work towards having the same winning solution."
"We believe in the AU10TIX technology since we have it working for us every day," says Alan Heaffey, Operations Director of RCI Financial Services Ltd: "We are innovators. We are fortunate to have the team and dealers who embrace new technology and implement it quickly and efficiently to be able to offer both dealers and customers the best value and best service possible. The AU10TIX FDI and FDI Lite enable us to do just that."
About RCI Financial Services Ltd
RCI Financial Services is a 100% subsidiary of RCI Banque SA - a 100% subsidiary of Renault-Nissan SA, with head office is in Noisy le Grand, France. RCI Banque provides finance for the sales of Renault Group brands (Renault, Samsung Motors, Dacia) throughout the world and for the Nissan Group (Nissan, INFINITI). The company finances almost 1 million vehicle loans per year from offices in some 35 countries across Europe, Asia, and the Americas.
About AU10TIX
AU10TIX Limited, a fully owned subsidiary of ICTS International N.V, deals with the authentication and digitization of identifying documents including Passports, identity cards, driving licenses and other complementary identifying documents. The company specializes in implementing hardware & software based applications used for scanning, identifying, content retrieval, authentication and validation of identifying documents. AU10TIX is a pioneer of all-channel (front-end and online) ID authentication and processing solutions. The company's products drastically reduce identifying document-based fraud, reducing the costs associated with client processing and enabling effective regulatory compliance, while making the sales and support operations speedier and considerably more efficient. For more information, visit http://www.au10tix.com.
About ICTS International N.V.
ICTS specializes in the development and implementation of innovative security concepts and solutions designed to meet the needs of a variety of industries, mainly aviation transportation, border control and sensitive facilities. ICTS International benefits from 30 years international experience in transportation security, with a particular emphasis on high-risk environments, passenger processing transactions and the integration of security services to provide a comprehensive security solution. It also offers a wide variety of customized training programs, tailored procedures and a wide range of security consulting services. The company has developed and implemented unique technological solutions, based on its comprehensive approach to security, designed to enhance the level of security while accelerating the security check process. For more information, visit http://www.icts-int.com.
This press release contains "forward-looking statements" within the meaning of the Private Securities Litigation Reform Act of 1995, regarding the Company's business strategy and future plans of operations. Forward-looking statements involve known and unknown risks and uncertainties, both general and specific to the matters discussed in this press release. These and other important factors, including those mentioned in various Securities and Exchange Commission filings made periodically by the Company, may cause the Company's actual results and performance to differ materially from the future results and performance expressed in or implied by such forward-looking statements. The forward-looking statements contained in this press release speak only as of the date hereof and the Company expressly disclaims any obligation to provide public updates, revisions or amendments to any forward-looking statements made herein to reflect changes in the Company's expectations or future events.
Contact:
RCI Financial Services Ltd
Allan Heaffey, Operations Director
alan.heaffey(at)rcibanque(dot)com
AU10TIX
Ofer Friedman, Director of Marketing
Email: ofer.friedman(at)au10tix(dot)com
Tel.: +972-50-4 71 71 50
ICTS International NV
Alon Raich
Tel.: + 00-972-974-47770
mail(at)ictsinternational(dot)com