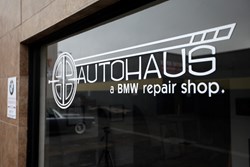 We were tired of seeing everyone race to the bottom with their prices by sacrificing quality and customer service. We wanted to build a place for those discerning BMW owners who wanted their vehicles serviced by a technician who understands BMW's.
San Diego, California (PRWEB) September 19, 2013
We've all been through the inconvenience of the car repair shop or dealership service – bad coffee, smelly waiting rooms, old torn and stained chairs, 10 year old magazines, and perhaps worst of all, no Wi-Fi and therefore nothing to do but wait.
Enter B and B Autohaus, a premier BMW repair shop that has just opened for business in the Kearny Mesa area. Co-owner Michael Boshart has used his artistic skills to design a comfortable waiting room that's functional for the business professional. Customers will find a gallery of oil paintings created by Boshart himself; a living room with a large flat screen, good coffee and comfortable seating; and co-working stations with Wi-Fi for comfortably getting work done while you wait.
Peak your head into the shop, and you'll find white walls and a light-gray epoxied floor beneath the brand new lifts and state of the art equipment. This is where your car gets pampered. "As BMW owners ourselves, we wanted to provide customers with the same things we might want when getting our own cars repaired: a clean, quiet, useable space and reasonable prices," says Boshart's partner and co-owner, Philip Bullock.
On July 1, 2013, the two long time friends opened the doors of B and B Autohaus after much planning and major renovations on their repair shop in Kearny Mesa.
The team at B and B Autohaus has 20 years of experience working on BMW's, having worked at some of the top BMW dealerships in Southern California. They learned a lot about customer expectations and how dealership's seemed to ignore them. "You do not have to charge the high prices of the dealers in order to give the high quality service and attention that the customer deserves," says Bullock. After serving several years as a technician, then shop foreman, Bullock was ready to make a difference in BMW customers' lives and become a BMW repair shop owner.
Along with the mechanical knowledge Boshart also has a long history of marketing, sales, design and high end customer service, so when the idea came up for these two friends to start a BMW repair shop together, it seemed like a match made in heaven. With the teams combined BMW knowledge and pension for business we can expect the pair will flourish.
To make an appointment, call (858) 560-0042 or simply stop in at 7905 Balboa Avenue, San Diego, CA 92111. Visit http://www.bandbautohaus.com for more information.
About B and B Autohaus:
B and B Autohaus is privately owned and operated by long time friends Philip Bullock and Michael Boshart. With over 20 years experience they offer accurate and timely service for BMW's with their up to date factory diagnostic equipment and use of Factory and OEM parts.