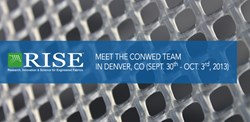 Minneapolis, MN (PRWEB) September 18, 2013
Conwed, the leading plastic netting manufacturer in the world, will attend RISE 2013, the Research, Innovation & Science for Engineered Fabrics Conference that will take place in Denver, CO (Sept. 30- Oct. 3, 2013).
Organized by INDA, this conference connects technical innovation in engineered fabrics with practical product applications. From apparel, bedding, biomedical and construction to filtration, hygiene, medical and nano applications, attendants to RISE have the opportunity to discover new ideas, technology, materials and composites in their respective industries.
"Where does innovation come from? We are all actively looking for paths to innovate and remain competitive. Our expertise is making lead users feel welcome in an environment where there are no bad ideas, only ideas with potential," said James Kidwell, Director of Technology & Innovation, Conwed.
A lead user, according to Eric von Hippel, of MIT, is a customer who can't find the product or solution they need, so they design their own solutions to fulfill this need. Lead users, in general, have needs that are well ahead of trends, and over time these needs expand out to the general marketplace. "We have embraced a culture where we encourage our prospects to share their product development ideas, even at the very early stages. This allows us to explore potential solutions even if it means pushing the limits of our technology to deliver what our customers need," said Ivan Soltero, Strategic Marketing Manager, Conwed.
"We have advanced products such as co-extrusion, bi-component and elastomeric netting that bring superior performance to composites in automotive, medical, hygiene and construction applications. We continue to develop new technology and attending RISE is an opportunity to learn from others and share our capabilities," said Mary Liz Cahill, Business Development Manager, Conwed.
Conwed netting is an essential component in hundreds of industrial and consumer products in many different industries worldwide. From automotive, filtration, medical, hygiene and disposable products to agriculture, apparel and building and construction applications, Conwed plastic netting performs a diverse range of performance capabilities.
About Conwed
Conwed is the leading plastic netting manufacturer in the world. Conwed manufactures extruded, oriented and knitted netting with unique customization capabilities. Headquartered in Minneapolis, Minnesota, Conwed has five manufacturing locations on two continents and a global distribution network.